Northumberland has UK's Most Beautiful Farm
2010-03-23
Beal Farm which incorporates the Barn at Beal has been awarded Overall Winner of the Beautiful Farm Award 2009/10 by celebrity chef James Martin.
Rodney Smith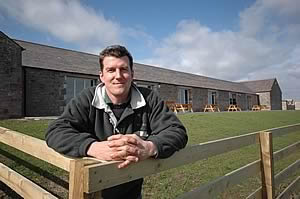 Local MP the Rt. Hon. Sir Alan Beith, was one of many to applaud Beal Farm in North Northumberland when it was awarded two national accolades in farming for its conservation work. At the Beautiful Farm 2009/10 Awards held at the House of Lords and hosted by Lord Palmer, they were presented with Winner for Scotland & the Borders and Overall Winner of the Beautiful Farm Award 2009/10 by celebrity chef James Martin.
Local farmer Rodney Smith began his conservation work of the 1150 acre family farm nine years ago. Situated on the North East Coast of Northumberland, the farm is located within the Lindisfarne National Nature Reserve and enjoys spectacular views over Holy Island. Through the Countryside Stewardship Scheme, the Smith family have worked tirelessly with Natural England to ensure that their mainly arable farming operation works alongside preserving this special landscape. This has included putting in grass margins, creating an arable reversion field, planting woodland and replacing miles of lost hedgerow. Their successful efforts to sustain and encourage wildlife are now enjoyed by many thousands of visitors to the farm's education and visitor centre.
Commenting on the awards, Rodney said, "We are delighted to have won these awards and to have had the hard work of everyone involved recognised. Beal Farm is a working example of how farming is becoming more and more involved in the conservation of the countryside. We hope that we can act as an example and show people that agriculture and nature can coincide and be of mutual benefit."

The judges were impressed not only by the farm's conservation activities but also its diversification project the Barn at Beal. Like many farms, the Smith family has had to look at alternative ways of making income and in 2008 it converted an old farm building into a restaurant and coffee shop specialising in serving local food, a conference and education centre. A Birds of Prey Centre was also added. Consequently the Judges felt Beal Farm to be of a very high standard, in a beautiful area with extensive facilities.
The awards ceremony at the House of Lords was hosted by Lord Palmer who lives in Manderston and who is a member of the EU Sub-committee for Environment and Agriculture. Rodney and Vicky Smith received their award from TV chef James Martin who is passionate about promoting artisan British produce. The Smiths' MP, Rt Hon Sir Alan Beith, was also at the event to congratulate them.
The Beautiful Farm Awards are sponsored by New Holland Agriculture and organised by Farm Business magazine.

Michael Walton Appointed President of Glendale Agricultural Society


Sale of Working Collies at Hammerlands


2010 Glendale Agricultural Society Award for New Enterprise