Agricultural Engineers Boost Student Membership
2010-03-25
The Institution of Agricultural Engineers' (IAgrE) campaign to increase student membership, which began in 2001, has recruited over 2400 students with just over ten per cent retaining membership once they have completed their studies – for most other institutions it is an average of three per cent.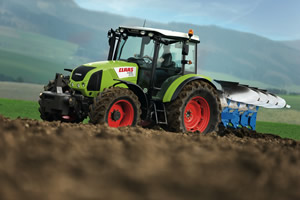 Dr Dan Mitchell, a previous President, instigator of the campaign and the primary recruiter of college students in the land based sector said: "I have benefitted from membership of IAgrE throughout my career and without it on my CV and the contacts made, life could have been very different."

"For the Institution to continue to prosper we need the support, ideas and creativity of younger students and engineers during their early years. We want to be the natural choice for students engaged in agricultural engineering, providing links to appropriate levels of expertise," said IAgrE Chief Executive Chris Whetnall.

Membership for students is free subsidised by the Douglas Bomford Trust. IAgrE visits colleges and universities regularly to strengthen links with them and to date 17 colleges are academic members with IAgrE supporting events and open days.

To encourage raising the professional status of agricultural engineering IAgrE is also working towards attracting more lecturers and college principals to join and is working to encourage more colleges to become supporters of IAgrE membership.

The introduction of its Landbased Technician's Accreditation (LTA) qualification
Scheme has also been a positive initiative to enhance links with employers – particularly machinery manufacturers and dealers and through this scheme new members have also been recruited.
"One of the major benefits of membership of IAgrE is that it shows you have attained certain minimum standards of education and training and membership of IAgrE (MIAgrE) has become an internationally recognised professional qualification.
Membership can also help you attain Chartered Engineer (CEng) Chartered Environmentalist (CEnv) Incorporated Engineer (IEng) Engineering Technician (EngTech)," Chris added.
The next steps to continue the recruitment and retention of students will be to enhance the student mentoring programme, develop the careers section on the web site and promote professionalism through further developing links with landbased industries.

Farm Dispersal Season Begins With Sale of Government Think Tank


Landini's Fruit Tractors Get More Than a Make-Over


New John Deere Application Pro Universal System