Farm Dispersal Season Begins With Sale of Government Think Tank
2010-03-24
The 2010 farm dispersal sale season in North Yorkshire begins with two farm sales in two days, seeing the end of an era for two farming families. It also includes the famous "Government Think Tank" Slurry Tanker.
The Yorkshire Offices of George F. White have announced dispersal sales at Blades Farm in Easingwold on Friday April 9th and Pasture House Farm in Nawton on April 10th. Both farmers are ending their tenancies and looking forward to retirement, free of bureaucracy and red tape.
Government Think Tank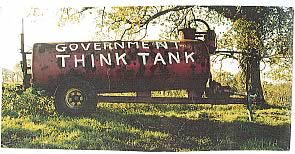 The evening sale at Blades Farm marks the end of an era not only for farmer Roy Smith but also the thousands of people who regularly drive past the farm on the B163 between Stillington and Easingwold. Roy, now 70, is famous for his wonderfully painted slurry tank with "Government Think Tank" painted on the side. This 900gal slurry tanker is one of the items in the sale which also includes three tractors, a JCB 3C digger, a Kvernland 3 fur plough, 3m Maschio power harrow, a range of farm machinery, livestock equipment and pumps and tools.
Roy is retiring from his 73 acre dairy farm after 39 years and is looking forward to swapping driving a tractor for driving a caravan.
Case 956 XL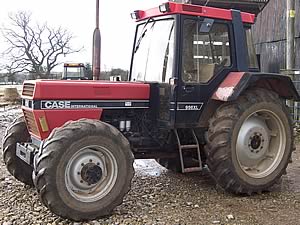 Martin Richardson's family have farmed the 179 acre Pasture House Farm at Nawton near Helmsley in North Yorkshire for over 70 years. This sale is a mix of livestock and machinery which includes 26 Hexham bred mule gimmers and a range of feeding equipment, pens, crates and fencing suitable for sheep, cattle and poultry.

The extensive machinery in the sale includes a Claas Senator 70 10ft header combine, two tractors a Case In 956 Excel 4wd tractor 'H' reg 8,500hrs and Case 685 Excel 2wd tractor 'G' reg, 6,300hrs, 'M' reg, 3,000hrs, a Tiegel crop drying fan, a Dowdeswell DPA 4 fur rev plough, a Ferguson 9 tine cultivator and a Allman Farmer 600 120m sprayer.

Case 685 XL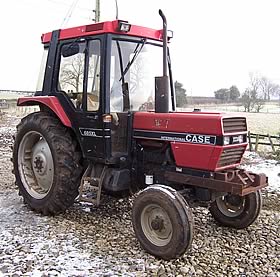 The farm is being taken back in hand by Lady Clarissa Colin of Wytherstone Farms and commenting Martin says; "I am now 64 and in light of the ever increasing bureaucracy and red tape from the RPA, the need to electronically tag all the sheep and monitor a nitrate vulnerable zone, I decided that farming was no longer the life for me. My wife and I do not want to be tied down by paperwork and having to look after the sheep every day, we want to enjoy life and have time for our hobbies."
Mrs Pickering will continue to commute to her job in Hearham and Martin will help out a local gardening contractor. Best of all they will both have time to devote to volunteering on the North Yorkshire Moors Railway.
Commenting Tom Oates Resident Auctioneer and a Partner of George F. White said: "These sales include a good selection of farm machinery and equipment for both arable and livestock farming. We are finding these sales increasingly popular as it is a cost effective way of buying well maintained agricultural items."

The sale at Blades Farm, Stillington Road, Easingwold, North Yorlshire on behalf of Mr R Smith takes place on Friday 9th April 2010 at 5.00pm
The sale of Pasture House Farm, Highfield Lane, Nawton, Yorkshire on behalf of JM and LK Richardson takes place on Saturday 10th April 2010 at 11.00am.
For further information on either sale, please contact Tom Oates at George F. White on Tel. 01665 603 231.
George F. White has offices in Alnwick and Tyne Valley in Northumberland, Wolsingham and Barnard Castle in County Durham, Bedale in North Yorkshire, Shiptonthorpe near York and Park Lane in London www.georgefwhite.co.uk.

Landini's Fruit Tractors Get More Than a Make-Over


New John Deere Application Pro Universal System


John Deere StarFire Mobile RTK