Landini's Fruit Tractors Get More Than a Make-Over
2010-03-15
A new version of the Landini Rex tractor will be launched at the Fruit Focus event on Wednesday, 21st July at East Malling Research Centre, Kent.
Landini Powerfarm HC's 745mm (29in) ground clearance allows deeper strawberry beds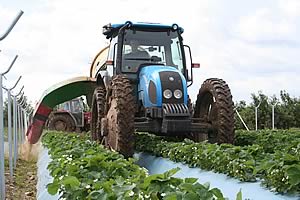 Engineers at the Argo Tractors development centre in Italy have gone through the tractor with a fine-tooth comb to produce numerous improvements.
A tighter-steering front drive axle for the Rex 'F' further improves the tractor's agility; main controls have been revamped, with hydraulic lift and spool valve levers located in a new right-hand console; and there are improvements for pto and three-point linkage operation.
On top of that, the previous range leading 99hp Rex 105 has been replaced by the 110 model with 102hp and more torque from its latest-spec Perkins engine.
"The new versions of the Rex are easily identified by the restyled hood design, which has a larger cooling air intake area, and the rectangular instead of round front lights," notes Landini specialist Eamon Howden. "Underneath, though, it's 'original Rex' with many refinements improving an already successful package."
There are three build variations: 'F' is the narrow model for small orchards and narrow-spaced trees; the 'GE' is a little wider but lower; and the 'GT' has a stance that gives it good stability for work in fields and more open orchards.
Four power outputs are available – 74hp, 81hp, 92hp and 102hp – with the two highest outputs generated by engines newly fitted with an intercooler for more efficient turbocharging and an uprated engine cooling pack.
The main transmission choice is between a 15 forward, 15 reverse gearbox with synchro shuttle and a 30x30 unit with two-speed powershift and power shuttle shifting between forward and reverse.
A restyled bonnet and rectangular headlights emphasise the upgrades package for the Landini Rex range, which is now headed by the 102hp Rex 110.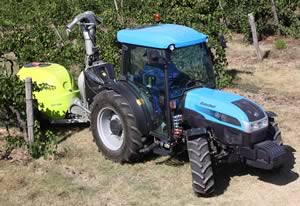 "Mechanical shuttle versions now have the electro-hydraulic pto engagement that previously was available only with power shuttle," notes Eamon Howden. "And on all models, depressing the clutch pedal takes less effort."
Changes to the mechanical three-point linkage control result in more accurate positioning as implements are lifted and there are revised settings in the new-generation electronic lift control option for cab versions of the tractor.
New remote valve configurations are available and controls for the hydraulics, including spool valves, have been repositioned to make them easier to use, as has the parking brake lever.
"The Rex didn't need anything more than these detail changes, it's already a very refined and productive performer," says Eamon Howden. "The emphasis has been on updates that operators working long hours on the tractor will appreciate."
Good news for soft fruit growers and field vegetable and salad producers: when power shuttle versions of the Powerfarm tractor were replaced by the all-new 5-H series, there was one important exception – the high clearance version. Growers use this high-rise tractor to straddle crops grown in beds, particularly for strawberries where making deeper beds provides better growing conditions. The Powerfarm HC, with its large diameter rowcrop wheels front and rear, is available with synchro or power shuttle, the latter providing clutchless forward and reverse selection, a more durable wet clutch, two-speed powershift for the 24x12 gearbox, and hydraulic engagement of the pto and four-wheel drive.

New John Deere Application Pro Universal System


John Deere StarFire Mobile RTK


Claas to Establish UK RTK Network