Popular McCormick MTX150 Returns with Added Features
2010-03-02
McCormick enthusiasts will welcome the return of an MTX150 model to the line-up following a revamp of the marque's six-cylinder product range.
The MTX150 returns to the McCormick six-cylinder range with a new engine, new cab and more modern bodywork styling.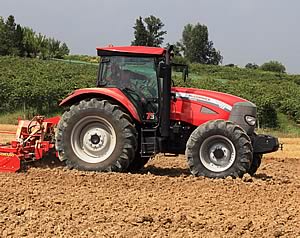 "The original MTX150 was regularly our best-selling six-cylinder model, so it was disappointing that an equivalent machine wasn't available when we first switched to 'Tier 3' engines," says McCormick product specialist Paul Wade. "Now, things have changed – the MTX150 is back with a new engine, a new cab and stylish bodywork that give it a fresh look and practical improvements."
The new MTX150 becomes the top model in the MTX range with peak power output of 141hp. The MTX135 is upgraded to 133hp and the MTX120 remains unchanged at 117hp.
"On the face of it, the new MTX150's power output appears to put it at a disadvantage to its predecessor's 152hp rating," notes Paul Wade. "But that's not the whole story because below 1600rpm the tractor develops more power than the old model and from about the same point torque output climbs appreciably to easily out-punch the old engine's output."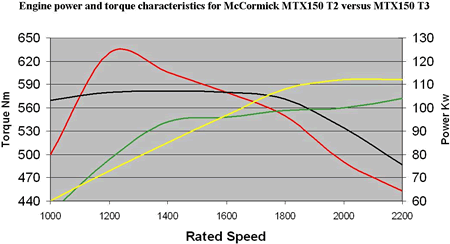 With peak torque 7% higher at 625Nm and power output sustained further down the rev range, the new MTX150 comes pretty close in real-world performance to the old model.
"It may not be quite as strong on pto work at rated engine speed but for heavy draft work, I doubt whether operators moving from old to new MTX150s will notice any difference," says Paul Wade. "They'll be able to gear up and use the engine's low speed power and torque to maximise fuel efficiency."
To handle the mechanical fuel injected engine's output, the new tractor gets the eight-plate shuttle clutch already introduced on other MTX models to further improve the renowned MTX transmission. They also share the high-lifting one-piece engine hood of the XTX that not only makes it easier to reach the engine and cooling pack but also gives the machine a thoroughly modern look.
"On top of that, the MTX now features the McCormick four-post cab from the XTX and TTX machines, bringing improved visibility, a lighter interior and new switchgear," Paul Wade points out. "There's also the convenience of a lidded storage compartment on top of the left-hand mudguard for all the essential bits and pieces needed for a day's work in the field."
Engine, cab and bodywork apart, the McCormick MTX T3 trio continue with a proven formula: namely, a 16x12 or 32x24 creep transmission featuring a power shuttle and four-speed powershift; 540/1000rpm pto; load-sensing 109-litre/min hydraulics; and 6.6 tonne electronically-operated rear linkage.

Steyr and Case IH Gain Market Share Across Europe


Festival of Farming Cancelled


John Deere Dealership JE Buckle Engineers Celebrates its 40th Anniversary