JE Buckle Engineers Celebrates 40th Anniversary
2010-02-16
John Deere dealership JE Buckle Engineers celebrates its 40th anniversary this April, and will be hosting open days at its new Bedfordshire premises in New Road, Maulden at the end of March.
The photograph shows (left to right) service technicians Tom Schroeder, Jason Dimond, Phil Hannah (service manager), Andy Murr and Mark Bryant; directors Ann Buckle, Gary Buckle and Julie Murr; parts assistant Stuart Shaw (seated on mower); agricultural sales Mick Phillips, Robert Vigus (sales manager), Bill Allen and Tom Garner; and turf sales Martin Green.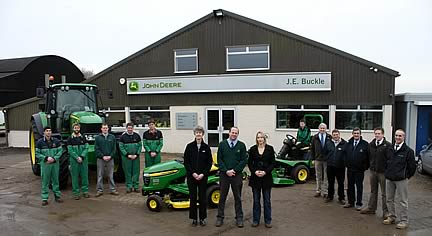 The family owned business was founded in 1970 by Jim Buckle and his wife Ann, and has grown from one man and a service van to become one of John Deere's top dealers in the UK and Ireland, with a turnover of just under £10 million last year. The dealership employs 32 staff altogether, with 13 at Maulden and 19 at Cromer in Hertfordshire.
Buckles originally took on the John Deere agricultural equipment franchise at Cromer in 1988. The dealership opened its second branch at Millbrook in Bedfordshire in 2000, starting with just three staff there before transferring to Maulden in December 2009. John Deere's full turf equipment franchise was awarded in 2007, although the business had already been selling homeowner equipment since 1998.
"We have effectively doubled turnover and staff numbers across the whole business since 2002," says managing director Gary Buckle, who continues the family tradition alongside mother Ann, brother Paul and sister Julie Murr. "The new premises at Maulden feature a brand new John Deere Place showroom, fully equipped workshop facilities and a comprehensive stock of parts, plus a meeting room for staff and visitors.
"In addition to sales and service of John Deere's full line of agricultural, turf and domestic equipment, our other main franchises include Kuhn, Manitou, Gregoire Besson, Spearhead, Kockerling and Bailey Trailers.
"We are looking forward to welcoming visitors to our Maulden branch open days from March 30th to April 1st, which will include two days of working equipment demonstrations. Staff from John Deere and our other suppliers will also be attending."
Comprehensive after-sales service is a key aspect of every John Deere dealership, and Buckles is no exception. Six service technicians are employed in the new workshop at Maulden, under service manager Phil Hannah. Phil and Andy Murr are registered at LTA3 level in the industry's Landbased Technician Accreditation (LTA) scheme, working towards the top tier, while Dan Massey and Kevin Drage at Cromer were presented with their LTA4 Master Technician certificates and registration cards at LAMMA in January.
Many of the current service staff have been through John Deere's award-winning Ag, Parts and Turf Tech apprentice training programmes at Brooksby Melton College in Leicestershire. Buckles is also a registered sprayer dealer, and employs AMS Specialists at both branches, who have certified expertise in John Deere's fast-developing Agricultural Management Solutions (AMS) product range for precision farming. This includes GreenStar satellite guidance systems such as AutoTrac and iTEC Pro, AMS documentation and software such as FieldDoc, and ISOBUS implement technology.

New John Deere Baler Range for 2010


Matthew Foster to Become Vice President of CASE IH and STEYR


Guy Machinery Acquires Lindley Pate Business