RABDF/Dairy Crest Dairy Student of the Year Award 2010
2010-03-31
Philip Dunn, a final year student at the University of Newcastle is the RABDF/Dairy Crest Dairy Student of the Year. Philip was awarded a £1,000 cash prize by Dairy Crest and the university he represented received £500 towards a dairying educational project.
Philip Dunn receives his award from, left,
Dairy Crest's milk procurement director, Mark Taylor
and RABDF chief executive, Nick Everington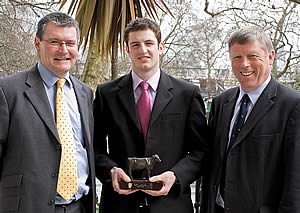 A memento was presented to each of the other three finalists short listed for the award: Stephen Agnew studying BSc Agricultural Technology at Queen's University, Belfast; Robert Cooke,
HNC in Dairy Herd Management, Reaseheath College and Robert Pierce studying: BSc (Hons) Agriculture with Animal Science at Harper Adams University College.
The preliminary round of interviews for the RABDF/Dairy Crest Student of the Year Award took place last month at Reaseheath College of Agriculture, where a panel of judges questioned 10 entrants on the college's dairy enterprise and how it could improve its efficiency and service to the industry. Four finalists were selected and went on to tour Dairy Crest's Gloucestershire dairy at Severnside to gain a greater understanding of milk processing and the priorities for consumers. The finalists then made a formal presentation in London today, Friday 26 March, on how they hope to develop their career in dairying and how the industry can be structured to meet the needs of the market place.
Mr Dunn, who is predicted to gain a first class honours degree in Agriculture with Farm Business Management, is planning to return to manage his family's 193 acre tenanted unit at Helmsley, North Yorkshire. "My objective is to build a successful, sustainable business. I'm fortunate to have the opportunity to take over a successive tenancy, however I also accept the fact I do not have a god given right to produce milk; I know that I will have to restructure the business accordingly, which will mean doubling current milk output to a minimum target of one million litres of production per annum by 2015," he explains. "However as a former DFoB member, my immediate priority is to secure a longer term milk contract." The unit is currently trading on a transitionary ex-DFoB contract.
"The future is going to be a challenge, but I'm looking forward to being in control of my own destiny," he says. "I am currently exploring all options on how to manage the expansion, and I will also be considering various input strategies – we currently operate a low input forage based system."
Mr Dunn firmly believes that the long term future for dairying is looking favourable from both a global and UK perspective. "Domestic production is continuing to decline and the average age of producers remains dangerously high, therefore l think there are real opportunities for young people like myself who are prepared to commit to dairying in the long term. However the industry's economics do need to improve and the sector needs a confidence boost." He adds: "My interest in the sector is primarily down to my father who encouraged me to take responsibility at a very early age, from feeding calves, to milking and then shaping the business's policy. I have since learned that the industry is changing rapidly and as producers we have to learn to keep a head of those changes if we are to succeed."
Sponsor, Dairy Crest's milk procurement director, Mark Taylor said: "For our industry to be successful in the future, we need to raise the profile of dairy farming amongst young people. The RABDF/Dairy Crest Student Award is open to all agricultural colleges in the UK and has a key role to play in promoting dairy based courses and the opportunities within our industry to the next generation of dairy farmers. We are pleased to continue our sponsorship of this award, which includes a visit to our Severnside dairy so the finalists can gain an insight into dairy processing and the importance of efficiency and innovation throughout the supply chain."
David Herdman, chairman of DCD, the independent supplier organisation representing Dairy Crest's direct suppliers, and a member of the interview panel said: "I welcome the opportunity to be involved with Dairy Crest in their sponsorship of this award and see first hand the level of knowledge and enthusiasm of the students. Once again the standard of the finalists has been very high, making the judging a tough, but very rewarding task."
RABDF's chief executive, Nick Everington commented: "This award is designed to encourage excellence in the industry and has identified four extremely focused and visionary young people who are exemplary in the sector. We believe the award offers them additional credibility and helps build confidence as they start their careers in an extremely tough business environment. We also believe in rewarding to inspire motivation and we trust our finalists will be encouraged to further excel in whatever career they choose to pursue in the dairy sector."

New Jersey Breed Classification Record


Holywood Herd Dispersal Attracts a Crowd


High Ranking Holstein Logan Now Available as 75% Sexed Semen