Nightingale Aberdeen-Angus Sells Four Bulls to Scottish Herds
2010-03-18
Messrs WA Robertson of the Nightingale herd, Pershore, Worcestershire, are pleased to announce the sale of four yearling bulls all sold privately (for undisclosed figures) off farm to leading Scottish pedigree herds.
Auldhouseburn Karlos D218, the sire of the four Nightingale bulls sold privately to leading pedigree herds in Scotland.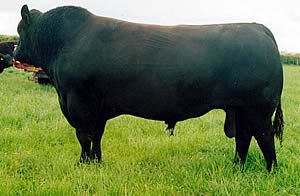 All four bulls are by their previous stock bull Auldhouseburn Karlos D218, who was sold back to breeder Hugh Blackwood in November 2008 and is now co-owned with Alistair Clark of the Duncanziemere herd, Cumnock, Ayrshire.
The first of these Karlos sons, Nightingale El Paso J489, born March 2009, is out of one of the herd's best Enchantress/Elixir females and sells with tremendous figures, beef value +43 and SRI +53, to the Wedderlie herd of Messrs J and J Campbell, Gordon, Berwickshire.
The second, Nightingale Quincy J481, a February 2009 born bull, has a beef value of +37 and another good SRI index of +52 and is out of the Rawburn Transformer daughter Nightingale Queen Lois C204. He sold to the Tofts herd at Playfair Farms, Kelso, Roxburghshire.
The third bull to be sold, Nightingale Parkin J486, a March born son out of Pride of Pershore C177 (the herd's top female and full sister to Peter Pershore who sired many of the Massie family's high priced bulls recently in Stirling) has sold to the Lorabar herd of Messrs J and S Montgomery, Lochwinnon, Renfrewshire. He has a beef value of +40 and a SRI of +52.
The last of the Karlos sons, Nightingale Reflex J488, bred from the successful Regent family line with an EBV of +34 and a SRI of +43, is the 12th Nightingale bred bull to be sold to the Airhouse herd of Messrs MW and CA Houghton, Lauder, Berwickshire.
Speaking of the sale, Angela Robertson of the Nightingale herd said: "Karlos has bred some phenomenal cattle for our herd and the fact that four of his sons have gone to leading pedigree herds in Scotland is a credit to him."

National Spring Spectacular Show at Beef Expo 2010


Leyburn Martís Spring Spectacular for Show Potential Cattle


Hexham Mart YFC Calf Wintering Competition