£4,200 for Leyburn's Winner as Super Trooper Keeps it in the Family
2010-03-15
John Smith-Jackson, Haltwhistle continued his breeding and showing prowess at Leyburn Mart's Spring Spectacular for Show Potential Cattle on Saturday March 13th when Super Trooper claimed the overall championship.
Super Trooper - £4,200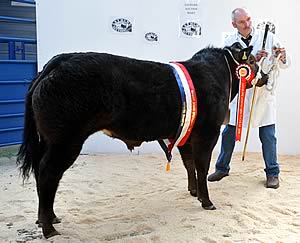 This ten month old Limousin steer purchased for £4,200 by Hyslop & Richardson mirrored Mr Smith-Jackson's success last year when Super Trooper's full sister took the honours.

The three judges involved in the day's proceedings were Donald Macpherson of Berwickshire for the heifers, George Rice from Leeds for the steers with the Young Handlers being studied and placed by Craig Bentley of Thirsk who was also on standby as referee.

The Reserve Championship came from the home of Cliff & Ben Moffett of West Auckland with a British Blue heifer which had previously taken the British Blue championship award especially donated by the Blue Society. She was knocked down to Donald Macperson for £1400.

Reserve British Blue came from the Darlington home of Alan Hall with a heifer selling for £1450 to R Jefferson, York.

Maureen & Bill Orme, Stalling Busk, Leyburn produced a quality pen of cattle deservedly achieving £3,200 for a blue heifer which went to Mrs Blyth of Norfolk; £2,300 for aLimousin heifer to Alan Hall, Darlington and £1,720 for another Limousin heifer also heading to Norfolk this time to the home of Alan Peck.

Other leading prices as follows: John Smith-Jackson (Lim heifer) £2,400 to Jim Courts; Will and Gillian Sedgley, Garsdale (Blue heifer) £2,000 to Craig Bentley; K Macgregor, Berwick (Lim steer) £1,750 to D Macpherson; W Orme (Blue steer) £1,520; Garrowby Farms, York (Lim steer) £1,500; JW Dent & Sons, Lartington (Lim steers) £1,400 & £1,300; S & GA Potter, Thirsk (Lim steer) £1,300; Nicola Beardsley, Ashbourne (Blue steer) £1280 and Lucy Corner, Newton Aycliffe (Blue heifer) £1200.

Averages:

29 Heifers @ £1375
19 Steers @ £1132

The Spring Spectacular continued its support and encouragement of the fledgling generation with Craig Bentley given the task of watching over the Young Handlers as they performed throughout the day. Taking the overall honours here was Lucy Corner with Beth Wilkinson second to her in the under sixteen's class. In the over sixteen's JenniferHeslop was first followed by Blue Taylor.

An outstanding entry of 57 Young Farmers representing all the local Clubs took part in a separate stock judging competition which proved a resounding success and added to the day's excitement and atmosphere.

Hexham Mart YFC Calf Wintering Competition


Kirkby Stephen Classic is the Bees Knees


ASDA BeefLink Producers Set Out to Produce Suckler Road Map