2010-03-30
A breakthrough new fungicide which has provided major increases in disease control, yield, quality and green leaf area is being launched to UK growers of winter and spring barley this season – just at a time when the crops could benefit from a boost against the effects of low grain prices.
Yield increases of up to 1 t/ha have been seen over a current leading fungicide standard in trials,
says Rod Burke.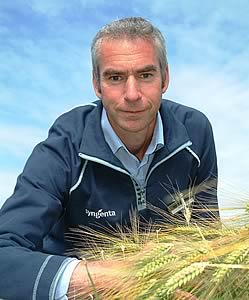 Bontima® from Syngenta represents an important introduction for barley, says UK cereal fungicide manager, Rod Burke.

In particular, he says, it is the first ever treatment containing the next generation fungicide IZM (isopyrazam) – a new, broad-spectrum fungicide from a new 'benz-pyrazole' chemical group which works in an advanced way to shut down disease.

"In Bontima, IZM has been co-formulated with the well-proven fungicide cyprodinil," explains Mr Burke, "bringing together two powerful ingredients to provide growers with a simple solution against all the major barley disease threats.

"Trials show that Bontima has given outstanding protection against Rhynchosporium, net blotch, Ramularia, barley leaf spotting, brown rust and powdery mildew. Moreover, independent and Syngenta trials have demonstrated that Bontima delivers greener and cleaner crops resulting in repeatedly higher yields and quality. Yield increases of up to 1 t/ha have been seen over a current leading fungicide standard in trials."

Significantly, Mr Burke says Bontima does not contain commonly-used triazole or strobilurin chemistry, which is important because there have been concerns about shifts in sensitivity in net blotch to strobilurin chemistry, and in Rhynchosporium and net blotch to triazoles.

"These issues, together with the need for higher barley yields to help counter grain price pressures, plus increasing problems of Ramularia and abiotic spotting, have all created a clear need for innovation in barley disease control. The arrival of Bontima ready for the important T1 and T2 spray timings has come at an ideal time.

"In particular, the breakthrough with IZM comes from the advanced 'double binding' properties of its 'benz-pyrazole' structure, whereby it not only binds strongly to the fungus, to make it highly potent against disease; but also to leaf waxes, to provide long-lasting protection.

"In this way, IZM is able to provide a durable barrier in the leaf wax, controlling disease before it is even able to penetrate the plant."

Syngenta technical manager, David Ranner, who oversees fungicide development, agrees and says that by combining IZM in a modern liquid co-formulation with cyprodinil – which itself is proven against Rhynchosporium, net blotch, mildew and the damaging problem of eyespot – Bontima provides excellent green leaf retention to drive forward quality and yield.

"With the importance of green leaf area for grain-filling, Bontima has set a new standard for clean and green leaves," says Mr Ranner. "With high grain quality crucial for barley profitability, Bontima has repeatedly given 'above threshold' results. And with a need to break through the yield ceiling to take barley profitability forward, Bontima has repeatedly given this improvement."

Pointing to specific trials results, Mr Ranner says as well as giving reliable control of triazole less sensitive and strobilurin-resistant strains of net blotch, Bontima has also reduced the level of Rhynchosporium infection in trial plots from over 30% to zero percent.

Similarly, Ramularia infection has been reduced from around 98% to just 2 or 3% with Bontima treatment, while untreated green leaf area of 40% in trial plots was doubled following Bontima use to 80%.

"In terms of yield, a programme of Bontima at 1.6 l/ha has boosted output by more than 2.4 t/ha over untreated and by as much as 1.1 t/ha over strobilurin + triazole use. In terms of quality, specific weight – at over 64.5 kg/hl – was also significantly higher than where a strobilurin + triazole combination was used.

"In winter barley, we suggest using 1.6 l/ha of Bontima at T1 and T2 in low to moderate disease situations, increasing to 2.0 l/ha at each timing where disease risk is high.

"In spring barley, in low to moderate disease situations we suggest 1.4 l/ha of Bontima at T1 and T2, increasing to 1.6 l/ha in high disease risk situations at each timing.

"Under high Ramularia pressure, the addition of 1.0 of Bravo at T2 should also be considered for resistance management," he says.

Syngenta continues to develop IZM in other crops and anticipates the UK Bontima launch will be followed by other launches of isopyrazam products around the world. Approval for a wheat product containing IZM in the UK is hoped for in time for the 2011 season, says Rod Burke, and in the next 12 months further IZM introductions are planned in the Asia Pacific region, Latin America, Europe and other markets in crops including cereals, vegetables and fruit.

Volunteer Barley Rears Its Ugly Head


Grassland Farmers to Get Top Tips on Reseeding Practice


Flexibility Vital in Late-Spring Weed Spraying