Matthew Foster to Become Vice President of CASE IH and STEYR
2010-02-09
Following the announcement that Andreas Klauser has been appointed President and CEO of the Case IH and Steyr worldwide in November 2009, Matthew Foster is to take over his functions as Vice President of Case IH and Steyr. From 1 February 2010 he will assume responsibility for both brands in all European countries.
Matthew Foster is to take over as
Vice President of Case IH and Steyr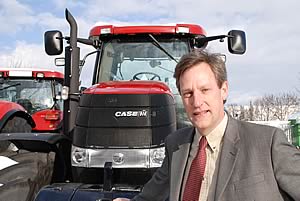 "Matthew Foster has been involved in the agricultural machinery industry for more than 25 years, and has many years of experience in our company. His activities promoting our brands are highly successful. His style of leadership and the way he encourages enthusiasm and motivation, as well as his excellent relationships with our dealers and customers make him the ideal choice," said Andreas Klauser.
Having studied agricultural engineering, Mr Foster held positions at leading European agricultural machinery manufacturers covering export and development before he started at Case IH in 1996.
Since then Mr Foster has headed various projects involving network development, sales and marketing. Up until his current appointment, he was Business Director for France.
"Agriculture in Europe faces immense challenges. Modern technology adapted to local conditions will be needed more than ever to provide a sustainable answer to these challenges while protecting resources," is how Matthew Foster assesses the current situation of agriculture in Europe. "In addition to sustainability, innovative agricultural technology plays a key role in increasing productivity in all sectors of agriculture. Through innovative products, services and our dealership network in Europe, Case IH and Steyr will supply the latest concepts in tractor and harvesting technology, and precision farming with its Advanced Farming Systems."

Guy Machinery Acquires Lindley Pate Business


Countdown on to High Profile Skipton Agricultural Showcase


John Deere PowerGard Programmes Keep Tractors Running