Guy Machinery Acquires Lindley Pate Business
2010-02-04
Agricultural vehicle and machinery specialist Guy Machinery, of Skipton, North Yorkshire, has acquired the assets of former agricultural and equine supplies business Lindley Pate.
Graham Guy, managing director of Guy Machinery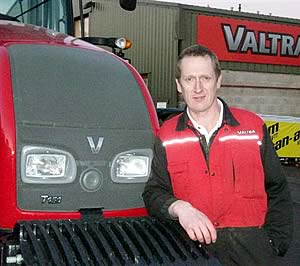 Based at Gisburn Auction Mart on the Lancashire/Yorkshire border, Lindley Pate, established in 1912, ceased trading late last year due to increased local competition and the recession.

Key to the acquisition is the fact that Lindley Pate, was, for more than 30 years, regional distributor for Ifor Williams, the UK's leading trailer manufacturer. Guy Machinery has now taken over distributorship rights for an area that covers large chunks of Yorkshire and Lancashire.

Graham Guy, managing director of Guy Machinery, which has achieved year-on-year business growth since being established at Skipton Auction Mart in 2005, said: "The acquisition is central to our expansion plans and develops our product portfolio significantly, also opening up access to new markets across the agricultural, construction and equestrian sectors."

Peter Nesbitt, business development manager with Ifor Williams Trailers, whose head office is in Cynwyd, Denbighshire, said: "Guy Machinery has an impressive record of business growth, coupled with a fine reputation in the industry sector. The company is well equipped to further develop both the Ifor Williams name and brand across its core trading areas in the North of England."

The latest Ifor Williams products will feature in a 'grand parade' at the Spring show of agricultural machinery and equipment at Skipton Auction Mart, on Tuesday, February 23. The bi-annual event is organised jointly by Guy Machinery and animal health products specialist and agricultural merchants, Pearson Farm Supplies, of West Marton.

Countdown on to High Profile Skipton Agricultural Showcase


John Deere PowerGard Programmes Keep Tractors Running


Top Service from John Deere Technicians