Countdown On to High Profile Skipton Agricultural Showcase
2010-02-01
The countdown is on to the second bi-annual Spring show of agricultural machinery, equipment, and animal healthcare products, to be staged at Skipton Auction Mart, on Tuesday, February 23.
All aboard. Guy Machinery's Gary Robinson, left, and Pearson Farm Supplies' Chris Pearson are pictured on the £5,800 quad bike that will be the star prize in the charity raffle at the flagship 2010 agricultural machinery, equipment and animal healthcare products show.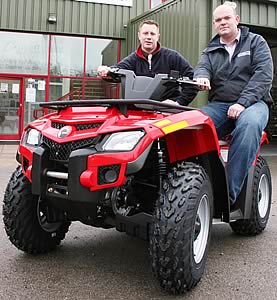 It's again being organised by Guy Machinery, based at the auction mart, and animal health products specialist and agricultural merchants Pearson Farm Supplies, of nearby West Marton.

The inaugural show in 2008, one of the biggest events of its kind ever seen in the region, was a runaway success, attracting over 1,200 people from across the North of England. The organisers say the 2010 follow-up event will be bigger and better - with one lucky visitor set to drive away with a £5,800 quad bike.

Guy Machinery is again co-ordinating a grand parade, with running commentary, of the latest machinery lines it supplies from the country's leading manufacturers, among them Valtra Tractors, Krone grassland equipment and Can-Am quad bikes.

Also represented for the first time will be Ifor Williams Trailers, the UK's leading trailer manufacturer, for whom the company has recently been awarded the regional distributorship, so creating additional all-round interest this year for farmers, construction companies and people with equestrian interests. Parts suppliers will also be represented, including Draper Tools, Birchwood Price Tools Sparex and Ring Automotive.

Pearson Farm Supplies will be showcasing animal health product ranges, along with large stock handling equipment, cattle crushes, sheep races, clipping machines, water storage and diesel tanks, and feed blocks. The latest information on EID sheep tagging will also be available.

Up to 100 trade stands are anticipated on the day, displaying agricultural-related products and offering expert advice to visitors.

They include foremost manufacturers and suppliers of agricultural machinery and equipment, along with representatives from some 15 pharmaceutical companies, who will be shining the spotlight on the latest wormers, vaccines and drugs.

The 2008 event raised over £5,000 for charity and organisers are hoping to top the figure this year, with proceeds going to the special care baby unit at Airedale General Hospital, Steeton.

The star prize in a charity raffle is a Can-Am Outlander 400 quad bike worth £5,800. Many other prizes have also been pledged by show sponsors and supporters, as well as suppliers of Guy Machinery and Pearson Farm Supplies.

Both say they are confident the enhanced event will again appeal to customers and a broad spectrum of individuals and businesses across North, West and East Yorkshire, Lancashire, Great Manchester, Cumbria – and beyond.

The show runs from 1pm to 10pm, with the grand parade scheduled for 7.30pm. Entry is free to all and vouchers for complimentary food and refreshments will be distributed. Special one-off, cut-price offers on many products are also promised.

John Deere PowerGard Programmes Keep Tractors Running


Top Service from John Deere Technicians


New Claas Apprentice Graduates