Top Service from John Deere Technicians
2010-01-24
The first six John Deere service technicians in the UK to achieve LTA4 Master Technician accreditation were presented with their certificates and registration cards on the John Deere stand at the LAMMA 2010 show at Newark in January.
Master Technicians at LAMMA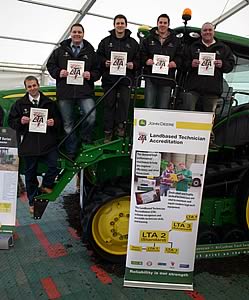 Introduced as the top tier of the industry's Landbased Technician Accreditation (LTA) scheme, the Master Technician designation recognises individuals as having a proven and professionally assessed track record as the very best technicians, with the highest level of diagnostic skills and specialist product knowledge. The six John Deere service technicians are (five of the six are pictured at LAMMA, as listed left to right):
Robert Watson – RBM Agricultural, Market Weighton, Yorkshire
Andrew Walker – RBM Agricultural, Retford, Nottinghamshire
Robert Griffiths – Agricultural Machinery (Nantwich), Cheshire
Dan Massey – J E Buckle Engineers, Cromer, Hertfordshire
Tom Cooper – Ben Burgess, Norwich, Norfolk (not in photo)
Kevin Drage – J E Buckle Engineers, Cromer, Hertfordshire
"By employing an LTA accredited technician, or choosing a dealer with LTA registered technicians, customers can be secure in the knowledge that their equipment is being serviced by the best in the industry," says Christopher Whetnall, chief executive of IAgrE. "With the ever increasing complexity and sophistication of agricultural machinery, it is vital to know that your equipment will be maintained by highly skilled professionals."
To achieve the full Master Technician qualification after being accredited at LTA3 level, individuals have to undergo additional training and assessment of their abilities in advanced diagnostic testing and product knowledge, as well as their customer and technical mentoring skills.
Technicians who reach LTA3 status are already registered with the Engineering Council as an engineering technician (EngTech), with the ability to display the technician's full qualifications on service vehicles. Currently John Deere's agricultural and turf dealers in the UK and Ireland have over 900 staff registered with the LTA scheme, including 454 at LTA2 level, 25 at LTA3 and six at LTA4.
"The LTA scheme is designed to raise the profile of dealership technicians and underline their value to the industry," says John Deere's manager, customer support Peter Leech. "By reaching the Master Technician level, these six John Deere dealer technicians have proved that they are at the top of their profession, and expertly qualified to provide the highest possible level of after-sales support to customers."

New Claas Apprentice Graduates


Haybob Back Under New Ownership


CASE IH Shows New Tractor Models at LAMMA 2010