Haybob Back Under New Ownership
2010-01-20
The Haybob twin rotor tedder/rake combination that remains the mainstay of so many smaller hay and silage making operations is now available from Kuhn Farm Machinery.
Kuhn Haybob 360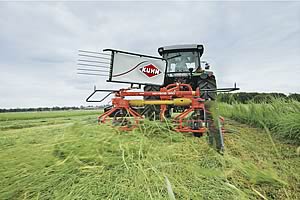 Simple to operate and with a quick transition between tedding and raking, both models in the range offer a standard three metre spreading and tedding working width. The smaller Haybob 300 operates as a central delivery rake (3m working width) and the Haybob 360 is a side delivery rake (3.6m).

The two models have minimum PTO power requirements of 15hp and 20hp respectively, weighing 300 and 345kg.

The Haybob 300 is priced at £2,698 and the Haybob 360 starts at £4,077.

Note: Previously sold under the Vicon name, the Haybob is now a Kuhn machine following the acquisition of a division of Kverneland Group (including its factory in the Netherlands) just over 12 months ago.

CASE IH Shows New Tractor Models at LAMMA 2010


New High Visibility Cab for McCormick MC Tractor


New Landini 5-H Series Tractors at LAMMA 2010