New High Visibility Cab for McCormick MC Tractor
2010-01-14
A new cab giving drivers better all-round visibility, improved ventilation and air conditioning and a more modern instrument layout is being fitted to 2010 editions of the McCormick MC range of four-cylinder tractors.
More modern instruments, additional colour-coding of controls and a revamped ventilation layout are among features of the high-visibility cab now fitted to McCormick MC four-cylinder tractors.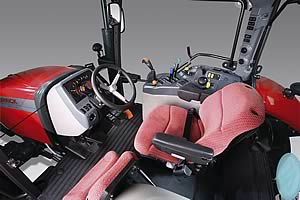 The upgrade follows 'Tier 3' revisions to the range that brought 7-12% power increases across the three-model range and a longer wheelbase for added stability with heavy implements.
Technical improvements this time include a revised braking system requiring less pedal effort, the option of independent front axle suspension for all three models, and the 'high visibility' four-post cabin.
"The new cab gives the popular MC four-cylinder tractors a real lift in terms of appearance and driver benefits," says Paul Wade, product specialist with McCormick distributor AgriArgo UK. "It completes a package of changes that has maintained the appeal of this work-proven tractor."
With power outputs of 101hp, 110hp and 126hp, the MC four-cylinder tractors combine the compact size of the lower-spec CX models with the transmission and hydraulics sophistication of the six-cylinder MTX line.
All have load-sensing variable flow pumps for economical use of the hydraulic system and a 16x12 or 32x24 creep transmission with power shuttle and four-speed powershift. Headland power take-off management is standard alongside electronic control of the three-point linkage and draft/traction control system.
Front axle suspension is a new option for the MC105 and MC115 – it was already available on the MC130 – that improves ride comfort on the road and in the field, as well as helping front end traction over rough ground.
A new four-post cab for the popular McCormick MC four-cylinder tractor brings improved visibility, a roof window and a new air conditioning system.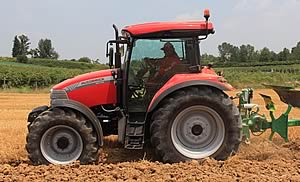 The McCormick MC's new cab is a variation of the Deluxe four-post design introduced last year on the three-model 83hp to 101hp McCormick CX line. With no 'B' pillars to get in the way, drivers get a clear view to left and right, as well as the extra light that comes from having fully-glazed doors filling both sides of the cab.
"There's also a roof window for the first time, making it easier to see and position a raised front loader," notes Paul Wade. "The change has released a little more headroom, which adds to the light and airy feel of the interior."
While the neatly laid-out side console needed no changes other than additional colour-coding of some controls to highlight related functions, McCormick designers decided to give the tractor a more modern instrument display. There is also an improved air vent layout that will help clear the side windows on misty mornings.
More changes are apparent outside, where four work lights are set into bright corner panels on the shapely two-colour roof panel. The roof also houses a new air conditioning system with filters more easily removed for servicing through a side access cover.

New Landini 5-H Series Tractors at LAMMA 2010


John Deere Sprayer Developments for 2010


Free Sheep EID Guide Available from Ritchey