DLC Equipment in New Landini Farm Tractors Dealership
2009-12-08
Who better understands the maintenance, repairs and parts service needs of farmers and other tractor owners than someone who operates a fleet of these machines across the country?
Cen Owen, Anglesey-based Landini tractor demonstrator and salesman at DLC Equipment.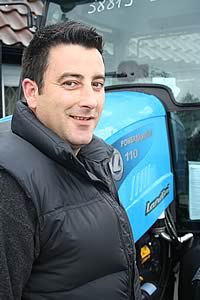 That's the logic behind a new enterprise – DLC Equipment – started by David Lloyd Jones at Colwyn Bay in Conwy; a new dealership supplying and servicing Landini farm tractors across north Wales.
"The opportunity arose after we looked at the new Landini PowerMondial as a candidate for our roadside and grounds maintenance tractor fleet," Mr Lloyd Jones explains. "We were impressed with the machine and after we placed an order the UK distributor suggested we take on the local agency."
With Rob Jones, a Landini-trained technician, and good workshop facilities already in place looking after the contractor's tractor and machinery fleet, it seemed a logical suggestion.
So now, DLC Equipment is running alongside the David Lloyd Contractors business from premises in Groes Road, Colwyn Bay to cover a territory that takes in all of Anglesey and Conwy plus much of Denbighshire.
The business is stocking Landini parts, with back up from a central store in south Yorkshire, and there are plans to add a parts delivery van and dedicated workshop vehicle for on-farm repairs.
"We'll try to offer the type of service we'd like to get from dealers ourselves," says David Lloyd Jones. "And, of course, we'll be switching our fleet of half a dozen green tractors to Landini over time."
The Landini PowerMondial 115 used by David Lloyd Contractors on vegetation control is available as a demonstration tractor.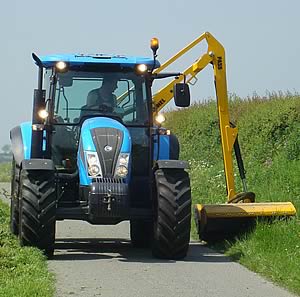 The PowerMondial 115 tractor used on contracts is ideal for the vegetation control jobs it tackles, he adds, thanks to the 110hp Perkins engine and new 12-gear plus triple-powershift transmission.
"We look after something like 600 reservoir sites for United Utilities, cut 35,000km of roadside verges and maintain at least 10 sites for schools, housing associations and industrial estates," notes Mr Lloyd Jones. "The PowerMondial has the right technical specification and a light, airy and spacious cab for the operator to spend a long working day in comfort."
Anglesey-based salesman Cen Owen is busy organising demonstrations of the new tractor and other models in the Landini line-up.
"The range caters for everyone, with tractors from 28hp compacts to 225hp heavy arable machines and everything in between," he points. "And then, of course, we have the unique PowerLift telescopic handler that's also a tractor – with 150hp, rear linkage and pto, and reversible drive set-up it's exceptionally versatile."

Trimble Expands Precision Agriculture Capabilities


Andreas Klauser is the New President and CEO of Case IH


Techno Model Widens Choice of Landini PowerMondial Tractors