Andreas Klauser is the New President and CEO of Case IH
2009-12-01
CNH Global NV announces that Andreas Klauser has been appointed President and Chief Executive Officer for CASE IH Agriculture Equipment. He took over from Randal W. Baker on 30 November 2009.
Andreas Klauser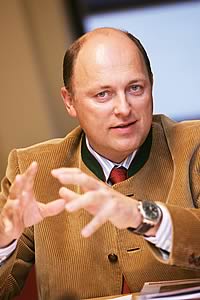 "As President and Chief Executive Officer of CASE IH Agriculture Equipment, Andreas Klauser will take over the entire responsibility for the CASE IH and STEYR brands worldwide," explains Harold Boyanovsky, President and CEO of CNH Global N.V. "His vast experience in the agricultural sector, his success in his previous assignment and of course his outgoing character and ability to encourage enthusiasm make him the ideal person for this position."
Andreas Klauser began his career in the company almost 20 years ago. Among his achievements were the development and coordination of the markets in Eastern Europe.
As Vice President and General Manager of CASE IH and Steyr, Andreas Klauser has been leading the growth of the brands in Europe and he will keep this responsibility in his new role.
His most important projects have been the expansion of the European dealer network and the implementation of a new sales and business structure at the European headquarters in St. Valentin.
Andreas Klauser will drive further the increase of Case IH word wide supported by a strong strategy of continued investments into new product developments, reinforced distribution and extension of the parts and service support via the dealer network to end customers.
Andreas Klauser comes from Austria. Following his education as a mechanical engineer and export manager, he joined the STEYR agricultural machinery company in 1990. During the takeover of STEYR by the CASE Corporation in 1997 he was entrusted with activities in Eastern Europe. Working from Poland, he continued to manage operations extremely successfully right up until 2006, after the fusion to form CNH. Since the end of 2006 he has been worked closely with Randy Baker as Vice president for Case IH and Steyr Europe.
Randal W. Baker is leaving the company to take on a new career challenge.
Steyr represents more than 60 years of industry-leading technology from Austria and specialises in tractors of the highest quality, exceptional comfort and high value retention. The impressive range of Steyr tractors features the very latest technical innovations and is stronger than ever before. This guarantees the highest productivity in the agricultural, forestry and municipal sectors. The Steyr dealership network offers optimum customer service on location.

Techno Model Widens Choice of Landini PowerMondial Tractors


Landini and McCormick Tractors to Fit Free Anti-Theft Scheme


John Deere's Golden Model Draw