Techno Model Widens Choice of Landini PowerMondial Tractors
2009-11-27
A 'Techno' version of the Landini PowerMondial has been introduced to broaden the appeal of the new four-cylinder tractor to a wider range of users.
Techno version of Landini's PowerMondial has a simpler transmission and less equipment than the Top model but carries a significantly lower price tag.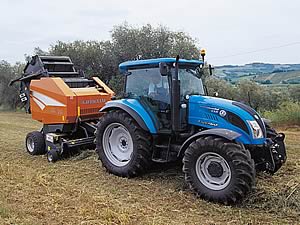 Equipped to suit operators who want a lively, modern tractor with a robust but simple transmission, the PowerMondial Techno still shares most of its features with the higher-specification 'Top' version – not least, a spacious four-post cabin with excellent all-round visibility.
"We're adding this simpler-specced version to meet demand from operators who don't need the power shuttle and powershift transmission used in the 'Top' version," says product specialist Eamon Howden. "It will also appeal to operators with a keen budget because the lesser spec obviously comes at a lower price."
All three existing power outputs – 92hp, 102hp and 110hp – will be available with the Techno specification and the Perkins four-cylinder engine is unchanged, using simple mechanical fuel injection and after-cooled turbocharging to develop plenty of power and torque.
With the Techno, however, the engine drives through a simpler transmission with a slick-shifting synchro shuttle used for changing direction instead of a power-shuttle. Also, there are 15 forward and reverse speeds (or 20x20 with the creep option installed) rather than the Top version's 36x12 with three-speed powershift.
The Techno version comes with mechanical three-point hitch control in place of an electronic unit – but still with lower link draft sensing for precise implement depth and traction control.
Twin assister rams are installed as standard to give the same 5650kg of lift capacity; optional ground-driven pto is available with the two-speed 540/1000rpm system when the creep 'box is added; and a front hitch and pto can be added to the Techno as well as the Top.
A heavy-duty push-back pick-up hitch is also part of the standard Techno package, making it easier for drivers to line up tractor and implement drawbars.
Drivers still get air conditioning as standard but with conventional rather than automatic climate control in the same roomy and airy MasterClass cab that comes with the Top version. Its four-post frame gives clear visibility all round and a pleasant working environment, which is further enhanced by the standard roof window.
"The cab is roomier than the design used on the Vision, which the PowerMondial effectively replaces, and the interior has a new layout with more storage space," notes Eamon Howden. "The PowerMondial also has a heavier-duty rear axle with epicyclic rather than bull gear reduction as part of the all-new transaxle."
PowerMondial Techno list prices are around £5700 less than for the higher-specification Top model: 100 (92hp) £37,179; 110 (102hp) £37,855; and 115 (110hp) £39,120.

Landini and McCormick Tractors to Fit Free Anti-Theft Scheme


John Deere's Golden Model Draw


John Deere 6030 Series Tractors Updated for 2010