Raymond Blanc Joins Leaf's 18th Birthday Celebrations
2009-12-08
World renowned Chef and Restaurateur Raymond Blanc joined LEAF on Tuesday 1st December 2009 for its 18th Birthday Gala Dinner and Charity Auction.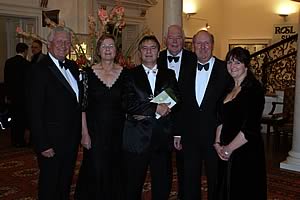 Over a hundred individuals from across the agricultural industry attended the event held at The Royal Overseas League in London.

Raymond Blanc OBE spoke about the importance of food provenance and local varieties. He congratulated LEAF on all its work with farmers and the wider food industry over the past eighteen years and said that the LEAF Marque was enabling farmers to get recognition in the market place for their environmental achievements.

The Gala Dinner was hosted by LEAF's founding Chairman, David Richardson OBE who talked of LEAF's achievements and its future plans. The four course dinner was provided by a number of LEAF Marque producers including, Uncle Henry's Farm Shop, Wealmoor, Produce World, Carroll's Heritage Potatoes, Leckford Estate, Leicestershire Handmade Cheese Company with wine from Freixenet. Dinner was followed by a charity auction, which raised over £7,000 for LEAF, the charity.

LEAF's AGM and President's Event - 'Making Farming Cool!' was held the following day and explored the topics of sustainable food production and encouraging the next generation into farming. It was well attended by LEAF members and industry supporters.
Speakers included Mike Barry, responsible for Marks & Spencer's 'Plan A', William Day from the Sustainable Development Commission, Ian Pigott and Jon Hammond, LEAF Farmers and Dr Alastair Leake from The Game and Wildlife Conservation Trust. There was a lively Q&A session with David Richardson, LEAF Marque producer Penelope Bossom, Rob Davies of 'Fresh Source' at Covent Garden Market and LEAF Farmer, Duncan Farrington.

Mutton Renaissance Open Event


Agriculture to 2050 – The Challenges Ahead


2050: Increased Investment in Agricultural Research Essential