Davidsons Animal Feeds Leads Trace Mineral Revolution
2009-11-12
Radical reformulation of the trace mineral components of its premium rations for milking cows, dry cows, growing heifers and calves will be significant in helping dairy farmers combat the major profit-draining diseases, according to Davidsons Animal Feeds.
Davidsons Animal Feeds has become the first feed company in Scotland to commit to total replacement of key inorganic trace minerals with more efficient organic equivalents in its premium cattle rations.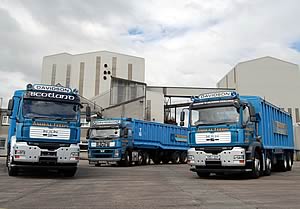 In a move that leads the way in Scotland, Davidsons has removed all inorganic sources of selenium, zinc and manganese from its four leading dairy products and in their place included proven, safer and more efficacious organic equivalents of these essential trace minerals.

As ruminant nutritionist Csaba Adamik explains, the total replacement of inorganic minerals may be very new, but it is a concept that is now backed by very strong research and the potential benefits are widespread.

"Organic minerals, or chelates, are a more natural way to supplement these key nutrients and are known to be more effective than their inorganic equivalents, but until now they have only been used as partial replacements for conventional approaches," he says.

"Trace minerals including selenium, zinc and manganese perform a vital role in livestock and deficiencies are relatively common, largely due to low levels in our forages.

"Ensuring safe and effective supplementation will impact on all the major profit-draining diseases in dairy cows, including infertility, lameness and mastitis, as well as having a positive effect on general health and performance at all stages of the dairy animal's life.

"We've reviewed independent research looking at the benefits of total replacement and believe that the time is now right to offer total replacement of selenium, zinc and manganese in certain premium brands. We are therefore including Alltech's Sel-Plex selenium, Bioplex Zinc and Bioplex Manganese in milking cow, dry cow, heifer rearing and calf rations in Davidsons' new TRACE range."

Mr Adamik referred to research conducted recently at Harper Adams University College, Shropshire, England, where a 2.4l/cow/day milk yield response was recorded when Bioplex Zinc replaced an inorganic zinc form at recommended levels. By the end of the 14 weeks trial, cows on organic zinc supplementation had a greater lactation persistency than cows on rations including inorganic zinc. Somatic cell counts were also reduced during the trial in cows receiving Bioplex Zinc.

He also quoted work from Langhill, University of Edinburgh, where the use of Sel-Plex selenium and Bioplex Zinc was shown to have a positive impact on herd fertility. There were strong trends for improvements in overall conception rate and 200-days not-in-calf rate, while Sel-Plex selenium and Bioplex Zinc supplementation also significantly reduced the number of cows not-in-calf at the end of the service period.

In another study overseen by Dr William Thatcher of the University of Florida, the inclusion of Sel-Plex in place of sodium selenite from 26 days pre-calving was shown to improve milk yield, uterine health and second service pregnancy rates.

"These are examples of the growing bank of hard evidence to support the long-established understanding that organically bound minerals are better able to protect the mineral in the aggressive environment of the rumen and small intestine, improving their availability to the animal – unlike their inorganic counterparts.

"Greater availability means less excretion, and this is firstly beneficial to the animal and secondly is important in an environmental context as the level of heavy metal residues resulting from our dairy units is reduced.

"Whether we are dealing with the burden of mastitis, lameness and infertility or have issues with more generalized immune function, we believe this total replacement approach offers a significant step forward for milk producers."

Davidsons is the first feed company in Scotland offering improved supply of important trace minerals through total replacement of inorganic sources with organic equivalents.

Estimating Silage Dry matter Content Can Be a Risky Business


Kiotechagil Phorce Demand Boosted by Trial Results


Feeding a Moist Ration to Dairy Cows May Be a False Economy