Kiotechagil Phorce Demand Boosted by Trial Results
2009-10-16
Kiotechagil, the international supplier of natural high performance feed additives has launched a new brochure for Phorce which has seen demand grow internationally following positive trial results.
Over 2,000 pigs were involved in the trials, which showed Phorce improved live weight gains, feed conversion and dung score.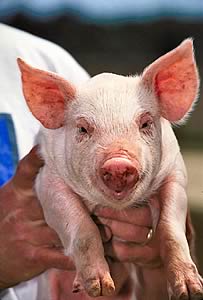 "With new customers across Europe and Phorce now being registered in Asia, South and Central America and the Middle East, it is vitally important we clearly explain the characteristics and trial results of the product to our market," said Kiotechagil chief technical officer Murray Hyden.

Introduced last year, Phorce aims to control enteropathogens in raw materials and finished feed. It also promotes a strong gastric acid barrier in young animals and acidifies the feed to promote digestion. With a low pH, but easy handling characteristics, Phorce even helps to control Campylobacter which requires a pH lower than 4.0 which is impossible to achieve with acid salts such as calcium, sodium or potassium formates and propionates.
Trials over a 15 month period have been undertaken on growing pigs at Plumpton and Sparsholt Colleges and in commercial units in Suffolk and Norfolk. In total over 2,000 pigs were involved in the trials which showed Phorce improved live weight gains, feed conversion and dung score. Results also showed that the enhanced growth rate achieved by pigs fed Phorce enabled them to leave the farm nearly six days earlier giving a significant feed saving and there was a 32 percent improvement in the mortality rate.

For further information and a copy of the new brochure please call 01189 813333 or email info@kiotechagil.com

Feeding a Moist Ration to Dairy Cows May Be a False Economy


New Minerals from Denis Brinicombe Group


New Amaferm 'Fibre Buster' Improves Feed Efficiency and Yields