Verity Mashams Win Again at Skipton Gimmer Lamb Highlight
2009-10-07
Nidderdale father-and-son Masham sheep breeders Roland and David Verity added another trophy to an already impressive haul when awarded the breed championship at the annual show and sale of gimmer lambs at Skipton Auction Mart. (Tues, Oct 6).
David Verity with his Masham gimmer lamb Skipton champions.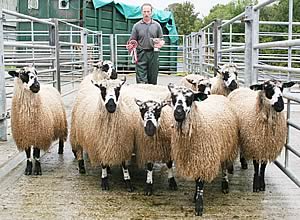 The Veritys, of Grange Farm, Bouthwaite, Ramsgill, landed their third accolade within the space of a month. In September, they sent out the champion pen of Mashams and overall reserve champions at Skipton's monthly prime lamb show, following up two days later with the victorious pen of 40 at the annual prize show for Masham wethers, part of the monthly store lamb fixture.

The Veritys were repeating their 2008 championship-winning success at this year's Masham gimmers show, staged on behalf of Masham Sheep Breeders' Association. They retained the Kemp Spokes Trophy - the Spokes family, of Long Buckby, near Northampton, has been buying Mule and Masham sheep at Skipton since the late 1930s.

The 2009 champion pen of ten made the day's top price of £125 each when joining Les Thackray, Mickley, Ripon, with the 341 Mashams sold averaging £66.57, an increase of £18.54 on the 2008 average.

On a day when 6,743 lambs passed through the ring, with all average prices well up on last year, there were also prize shows for Mule, Continental and Suffolk-cross, and Swaledale gimmers.

Best of the Swaledales came from John Tennant, of J & S Tennant, Low Bucker House Farm, Bordley, who picked up the Craven Cattle Marts Trophy. His ten-strong pen sold for £78 apiece, with joint top prices of £90 a head falling to Roy Nelson, Bordley, and Chris Akrigg, Cray.

The 1,173 Swaledales sold levelled out at £50.56, £20.64 up on last year, with leading flock averages as follows: C Nelson & Sons, 36 lambs sold at an average of £82, CT Akrigg 173 at £61.40, JM & S Tennant 105 at £57.48, G Huck & Son 96 at £54.71, TW Cowperthwaite 70 at £51.21, M & R Pearson, 43 at £50.77.

Roy Nelson, of Lainger House, also presented the champion Texel-cross pen in the Continentals class, receiving the C Hagar Trophy. They made £70 each when joining R Crabtree & Son, Bramhope, with John Harrison, Thornton-in-Craven, heading the class prices at £78. The 292 Continentals averaged £62.79, up £10.79 on 2008.

A total of 4,819 Mule gimmer lambs were sold, with a new annual open prize show class won by Robert Crisp, Calton, his pen selling at £90 per head to Sean Richards, Hapton, Burnley. Joint top prices at £100 a head fell to the Throup brothers – Joe, from Draughton, and Jeff, Silsden Moor. Mules averaged £64.51, an increase of £18.50 compared to last year.

Nelson Cements Hold on Skipton Swaledale Ewe Fixture


Blue Faced Leicesters Take Lead at Skipton Multi-Breed Highlight


Forts Storm to Top Price Success at Skipton Lleyn Show