Zara Wins Some Nights at the Sheep Breeders Round Table
2009-10-29
200 words means SAC student Zara Chestnutt is going on an all-expenses-paid trip to the Sheep Breeders Round Table at Stratford on Avon which covers sheep breeding, from practical farming advice to the use of cutting edge genetics.
Cross Texel sheep at SAC's Kirkton Farm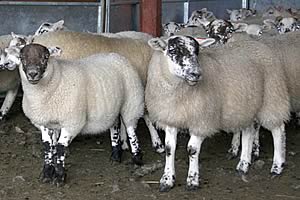 The open competition was organised by the Scottish Sheep Strategy and supported by Quality Meat Scotland. The sponsorship includes the winning delegate's conference fee, accommodation and travel expenses up to the value of £200.
Zara is in her final year of study of an Agriculture Honours degree course at SAC Edinburgh. She is studying animal breeding and genetics and will be undertaking a research project supervised by Dr Lutz Bunger. The project, which will form the basis of her Honours dissertation, will be examining aspects of body size and growth in Texel sheep and their relationship to meat yield.
In her successful 200-word application she said: "Attending the Sheep Breeders Round Table would be an excellent opportunity to be inspired by leading researchers and discuss with breeders the relevance of my project."
Zara, whose father has been a Texel breeder in Northern Ireland for over 30 years, has always had an interest in sheep. As a student she spent a year with Finlay and Neil McGowan at Incheoch, Blairgowrie, and admits she learned a lot.
For QMS, Livestock Development Manager, Kathy Peebles, said: "We felt that attending the Sheep Breeders Round Table would let Zara meet with farmers and researchers who are at the forefront of developing and putting into practice the latest in sheep breeding technology. QMS already funds some of the projects that Dr Bunger is leading on so it is a nice link back to the industry."

Irish Organic Beef Farmers on Tour in Scotland


Scotgrass 2010 Returns to Crichton


New Versatile Claas Arion 400 Tractor Range