Irish Organic Beef Farmers on Tour in Scotland
2009-10-07
The SAC Organic Team at Craibstone recently welcomed a study tour of 22 Irish organic farmers from Leitrim Organic Producers Co-op. They were looking for ideas on the best way to finish native breed cattle off grass and forage.
Leitrim Organic Producers Co-op members on a farm visit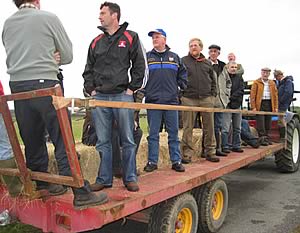 The Co-op manager is an SAC Organic Farming Distance Learning graduate who enjoyed his times on the Craibstone campus and NE farm visits. He felt his Co-op members would benefit from a similar, if more condensed, experience of classroom sessions and visits.
A full programme had been organised by the SAC team with morning sessions in the Craibstone teaching rooms. SAC Organic Farming Consultant Richard Huxtable described organic production in Scotland while Caroline Shahin gave an organic market update.
Peter Shipway, Douglas Gray and Gavin Hill covered organic grassland management, the health of the organic beef herd and a comprehensive overview of native beef breeds with an outline of the current Scottish beef research in Scotland. Brian Anderson, the Procurement Manager with local meat processor McIntosh Donald described the current issues facing the organic beef market.
That was just the morning. In the afternoon the Co-op members took in four very different farm visits looking at mixed finishing and marketing systems for Aberdeen Angus and Shorthorn cattle. They even had time to visit a local farm shop. SAC organic stalwart David Younie chaired the events, finishing with a BBQ in the Lillian Sutton Gardens where SAC staff and the host farmers mingled with their Irish visitors.
Feedback from the Co-op members was very positive. They all agreed there was a lot to digest (even beyond the BBQ) and lessons learned which could be applied to their own systems. The overwhelming consensus from all the Co-op members was the frankness and honesty from all the host farmers and SAC speakers. Their other comments concerned the superb quality of the organic cattle in the north east of Scotland.

Scotgrass 2010 Returns to Crichton


New Versatile Claas Arion 400 Tractor Range


New GreenStar 1800 display from John Deere