Cundall Lodge Farm Nets Top Tourism Award
2009-10-26
Cundall Lodge Farm at Cundall, 14 miles north of York, has won the Guest Accommodation of the Year title in the county's 'tourism Oscars' – the 2009 White Rose Awards, organised by official tourism agency Welcome to Yorkshire.
It proved a highly successful first foray into the awards arena for proprietor Caroline Barker, who established the bed and breakfast business at the traditional family farm ten years ago. Caroline is Yorkshire regional chairman of Farm Stay UK, the country's largest network of farm-based accommodation providers.

Cundall Lodge – the farm grows cereals, grass and fodder beet - is a Grade 11 listed Georgian farmhouse built over 200 years ago and standing on the banks of the River Swale, with panoramic views of the famous 'White Horse of Kilburn.' There are three guest bedrooms.

Last year, Cundall Lodge received a gold award and five-star rating from Enjoy England. It is also a member of Bed and Breakfast Nationwide, 'Yorkshire's Finest' Consortium and is listed in Alastair Sawday's 'Special Places to Stay' guide.

Caroline is naturally over the moon that her B&B business has scooped a major tourism accolade at the first attempt. She said: "We are constantly upgrading and have a policy of using local food producers wherever possible."

Also shortlisted in the Guest Accommodation of the Year was another Yorkshire Farm Stay UK member Katrina Gray, who runs The Wold Cottage at Wold Newton, near Driffield.


Cundall Lodge's Caroline Barker is pictured at the awards ceremony with Peter Kay, left, from award sponsors Ware & Kay, and Dr John Sentamu, Archbishop of York.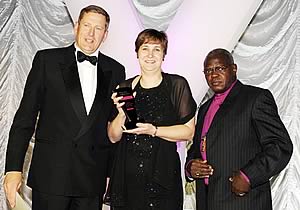 The awards ceremony was staged at the Royal Armouries in Leeds. Guest presenters included BBC Look North's Christa Ackroyd, The Lord Archbishop of York Dr John Sentamu, world champion sitskier Jo Willoughby and Heartbeat actor David Lonsdale.

The panel of independent judges praised Cundall Lodge. It noted: "Quality shone through the application. There is a very clear passion and pride in the business. If Carlsberg did B&B...!"

Barbara Woroncow OBE, chair of the judges said: "White Rose Award winners are proof of the excellence that exists in our region. Their commitment to raising standards of service and levels of expectation has resulted in Yorkshire's continuing and rising success as a destination."

Gary Verity, chief executive of Welcome to Yorkshire, said: "With the current economic climate, prestigious award ceremonies such as this are all the more important – Yorkshire tourism deserves its moment to congratulate the best of its colleagues and peers, and as a region we certainly have a lot to be proud of."


Cundall Lodge's Caroline Barker, fourth from left, is pictured with her Welcome to Yorkshire White Rose tourism award, joined by fellow Yorkshire members of Farm Stay UK.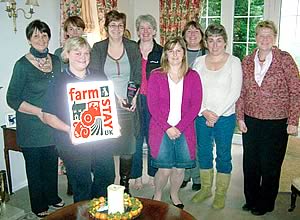 Rosie Winterton, the Minister for Yorkshire and The Humber, said: "The winners and those shortlisted for these awards are all a great example of what our region can offer visitors. The government is firmly committed to backing tourism, which makes such an important contribution to the national and regional economy.

"Yorkshire Forward's £30 million investment in Welcome to Yorkshire is part of that commitment by supporting the work to bring more visitors to the region and developing our tourism economy even further."

Fourteen of the fifteen winners from this year's White Rose Awards, Cundall Lodge among them, will now be entered into the national Enjoy England Awards for Excellence 2010. Last year, Yorkshire won three gold awards beating off hundreds of other national attractions.

Yorkshire Dales Farm for Sale


Norfolk's County Farms U-Turn is Madness


Farmers Urged to Sort Long Term Financing