Farmers Urged to Sort Long Term Financing
2009-09-11
The global financial difficulties dominating the headlines since the autumn have formed a sobering background to the farming scene, but with this sector leading the economy out of recession, it's not all gloom and doom.
Tom Oates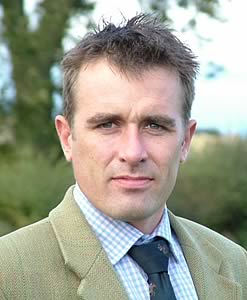 Tom Oates a Partner at George F. White has found that, in spite of the problems customers have with their banks, specialists such as the Agricultural Mortgage Company are very much open for business. These organisations have benefitted and have seen a big demand.
In the short term, current interest rates have been a boon for farmers able to take advantage of interest only rates and pay back loans quickly. This has allowed them to save on the financing costs for small projects, in turn increasing their profitability. However once the economy begins to recover, the measures designed to keep rates low are likely to be scaled back.
As well as rising rates, many rural businesses are finding it much harder to obtain finance as banks have become increasingly cautious. However this needn't be the case explains Tom: "Specialists in agricultural lending such as The AMC are still very much open for business and prepared to help farmers. We have seen many of our clients benefiting from AMC loans when other banks were simply unable to support them. They are currently offering a range of flexible packages including interest only, variable and fixed rates. In addition, these mortgages have only a one off set up charge and no annual charges. "
Tom continues: "Lenders are coming back on line as interbank lending eases but available credit is still relatively limited. However agricultural business does make good sense to lenders given the current performance of this sector. Agricultural property may be too wet or too dry, but it is still a relatively safe and secure as an investment. A land owner with a track record based on existing assets will benefit - and farmers need to take advantage of the cheap money available in this market place. "
The AMC was founded in 1928 to lend exclusively to the agricultural industry and is now responsible for 30% of the sectors medium to long term lending. As farming's GDP continues to increase and with this sector generally acknowledged as leading the UK economy out of recession, farmers are in a strong position to negotiate their future financing.
Anyone requiring advice on developing and financing their long term business plans should contact Tom Oates at the Alnwick office of George F. White on Tel. 01665 603231.
George F. White has offices in Alnwick and Tyne Valley in Northumberland, Wolsingham and Barnard Castle in County Durham, Bedale in North Yorkshire and Park Lane in London www.georgefwhite.co.uk.

Rural Land Register Mapping Update


Burnetts Offer Online Advice for Horse Owners


CLA Warning Over Rivers Right to Roam