New John Deere Utility Tractors for 2010
2009-10-30
John Deere's new 5M, 5G and 5E utility tractors from 55 to 100hp are aimed at livestock and mixed farms, small arable farms, speciality and part-time farmers, and commercial equipment fleet owners.
John Deere 5100R, 5090M & 5090G tractors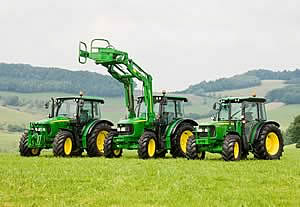 Complementing the top of the range 5R tractors introduced last year, these 16 new tractor models offer customers the same traditional high levels of quality, specification and value. The new line-up includes:

• the 5M Series from 70 to 100hp (5070M, 5080M, 5090M and 5100M), a general purpose tractor with ideal specifications, engine power and performance characteristics for pto work and general farm applications;
• the 5G Series from 80 to 100hp, designed for smaller mixed and arable farmers and those customers who require special configurations such as high ground clearance (5GH), orchard (5GF, ie fruit) or vineyard (5GV) models;

• the open station 5E Series tractors from 55 to 75hp (5055E, 5065E and 5075E), for part-time farmers and speciality crop farms.
John Deere 5M Series tractors
With their compact dimensions and features, the new 5M Series tractors are ideal for small to medium livestock farms. They are particularly suitable for diet feeding, mowing, baling, fertiliser spreading and transport, and can be equipped with matching John Deere front loaders for a variety of materials handling applications.
The tractors feature 4.5 litre Tier III John Deere PowerTech M diesel engines with rated power from 70 to 100hp (97/68 EC). These engines are equipped with a mechanical fuel injection system, turbocharger, an air-to-air charge air cooler and a slideable air conditioning condenser for easier servicing. Apart from reduced emission levels and good fuel economy, these powerful and reliable mid-specification engines provide a two per cent power bulge and a 28 per cent torque rise to match even the toughest tasks.
Depending on individual requirements, there is a choice of three transmission options:
a high specification 32/16 Power Reverser Plus transmission, which features clutchless shifting of two HiLo gears under full load. The reverser lever is mounted on the adjustable steering column and moves with it, so that this always provides the most comfortable driving position;
a 16/16 Power Reverser transmission;
a basic 16/16 Sync Reverser transmission, with the reverser lever mounted on the dashboard – simply depress the foot clutch and shift direction with the lever.
A wet clutch and a parking lock are standard on all models, while a creeper gear transmission working down to 300m/hr is optionally available.
The open centre hydraulic system features a tandem pump with a total flow of 74 litres/min (50 + 24 litres/min) for quick cycle times and improved efficiency. An even higher capacity 94 litre/min pump (70 + 24 litres/min) is available as an option. Customers also have the choice of either two or three SCVs depending on implement needs and applications.
A maximum lift capacity of 3.6 tonnes allows customers to operate a wide range of implements, and there is a choice of electronic or mechanical three-point hitch controls. As a brand new feature on John Deere tractors, the 5M range will be available with a 540/540E/ground drive pto to power trailer wheels in hilly landscapes and on slopes. A 540/540E pto and a shiftable 540/540E/1000 pto are also available.
Besides excellent visibility and operator comfort, 5M Series tractors feature a bright cab interior, a newly designed dashboard, ergonomic controls and multiple seat and lighting options.
John Deere 5G Series tractors
The new 5G Series tractors will replace the current 5015 Series tractor range and will consist of nine models from 80 to 100hp (97/68 EC). The full line-up includes the 5080G, GF and GV; the 5090G, GH, GF and GV; and the 5100GF and GV. These versatile tractors have been specifically designed to meet the requirements of mixed and livestock farms, vegetable growers and orchard or vineyard owners.
Depending on the target customer, these tractors are available with the following special model designations: 5GH signifies high ground clearance for vegetable growers; 5GF models are for fruit growing farms which often require a machine width of less than 1.5m; and the 5GV tractors for vineyard owners feature a machine width of only a little over 1m as well as a powerful hydraulic system.
All 5G Series tractors are powered by 4.5 litre Tier III PowerTech M diesel engines with mechanical fuel injection, turbocharger and charge air cooler, ie the same engine used on the 5M Series. There is a wide range of transmission options, starting with a cost efficient 12/12 30kph transmission, followed by a 24/24 40kph version with mechanical or electro-hydraulic HiLo gears, and a 24/12 40kph Power Reverser unit.
All John Deere 5G Series tractors are equipped with an open centre hydraulic system and a 47 litre/min tandem pump (optional 60 litres/min) for quick implement reaction. For the 5GF and 5GV models, John Deere will offer an optional third pump to provide up to 80 litres/min to the SCVs and rockshaft.
Lift capacity of the 5G Standard tractors is up to 2.6 tonnes, or 2.4 tonnes on the 5GH, 5GF and 5GV versions. Depending on application, the tractors are either available with three SCVs (5G and 5GH) or four plus four mid-mounted SCVs (5GF and 5GV models). Pto options include 540/540E/ground drive and 540/1000/ground drive versions.
The new cab layout features left and right hand consoles with common controls logically placed for ease of use. The roof lining and air conditioner have been redesigned to provide greater headroom and forward visibility. The cab is now sealed and pressurised for greater comfort and efficiency of the heating and cooling system. Open operator stations with two- or four-post rollover protection are also available.
John Deere 5E Series tractors
John Deere 5065E tractor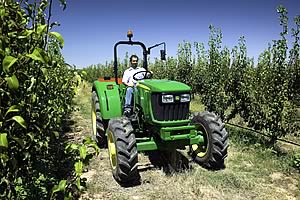 The new 5E Series isolated open operator station tractors have been specifically designed for small livestock farmers, small speciality farms and part-time farmers. Three models are available, the 5055E, the 5065E and the 5075E from 55 to 75hp (97/68 EC).
All three models feature an easy to service Tier III intercooled three-cylinder John Deere PowerTech M engine with turbocharger and viscous fan. This engine provides good fuel economy and low emission levels.
The synchronised 9F/3R inline transmission follows an H pattern and can be shifted on the move via side-shift levers within the range. It includes a park brake for safe parking on slopes. Self-adjusting, self-equalising and hydraulically actuated wet disk brakes ensure safe operation even under difficult working conditions.
5E Series tractors are equipped with an open centre hydraulic system with independent hydraulic pumps, one generating 25 litres/min exclusively for the steering system and the other generating 46 litres/min for other hydraulic applications, eg front loader work or rear lift operations with the three-point linkage.
All three models are fitted with a single rear SCV, operated by a dedicated SCV lever as standard. Additional options include a second rear SCV or mid-mounted SCV, each of which need to be operated by a joystick control, and compatibility with a trailer brake valve.
The category 2 mechanical hitch control is equipped with dedicated levers to precisely control the position. With a lift capacity of 1.8 tonnes at the hitch balls, 5E tractors offer excellent lift capacity at a competitive price level in this market segment. A variety of trailer hitch solutions include an automatic or manual slider, and a regular swinging drawbar.
The standard 540rpm pto operates at a rated engine speed of 2400rpm, while the 540E economy version runs at 1700 engine rpm. The tractors can be fitted with a choice of two mechanical self-levelling or non self-levelling loaders, with lift capacities of either 873kg or 989kg to a maximum lift height of 3.38m.
John Deere 5E Series tractors also feature an ergonomically designed straddle-type operator platform which is well isolated from engine noise and transmission vibration, and the comfortable, intuitive controls make these tractors easy to use. The fold-away roll-over frame and an optional two-post sun protection canopy offer additional operator comfort and convenience.

Sales Team Expands at Landini Tractor Dealership


New Packo Vertical Milk Tanks Save Space and Money


New Claas Apprentices Arrive at Reaseheath