New Claas Apprentices Arrive at Reaseheath
2009-10-21
The success and support for the CLAAS Agricultural Apprenticeship based at Reaseheath in Cheshire and Barony College near Dumfries, is evident in the fact that 22 new students have joined the scheme this year from CLAAS dealerships throughout the UK.
Starting the four-year CLAAS Apprenticeship are: James Burton; Timothy Nicholls; Tom Jackson; Tom Lambert; Jack Ashton; Tom Thomas; Daniel Jenkin; William Honey and Glenn Michie.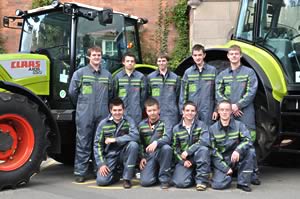 This year will see the first group of nine students starting their four-year apprenticeship based at Reaseheath College. This follows the decision by CLAAS UK to enter into a new training partnership with the college, which is based near Nantwich in Cheshire.
The nine students come from throughout the UK and both Seward in Yorkshire and Olivers (Hertfordshire and Oxfordshire) have two students starting. The other students come from: Kirby (Leicestershire); Southern Harvesters (Berkshire); Marsh (Lincolnshire); Hamblys (Cornwall) and R&G Williams (Gwynedd).
In addition to the Reaseheath course, CLAAS is the only landbased engineering company to offer a manufacturer's apprenticeship within Scotland, which was launched last year in order to provide CLAAS dealers in Scotland and the north of England with the same apprenticeship training provision as southern dealers.
In both cases the students will be studying for a National Diploma in Land Based Technology. This qualification is seen as a practical hands-on alternative to 'A' Levels, and CLAAS is helping to lead the way in the adoption of this course.
One of the main benefits of the Diploma, other than higher technical credibility, is that upon qualification, the successful candidate will receive a Pass, Merit or Distinction grade, which will enable them to better demonstrate and gain recognition for their progression and ability.
During the four-year apprenticeship programme, the students will spend the first three years studying the National Diploma, in which time they will have the opportunity to train at CLAAS UK headquarters at Bury St Edmunds, and subsequently the Group headquarters at Harsewinkel in Germany.
In their final year, the students gain additional certificates, such as those for towing a trailer with a road vehicle, refrigerant handling and forklift operators' licence, so that when they complete the course they are well prepared for full entry into the dealer environment and associated industry requirements.
Following their graduation from the Apprenticeship scheme, these Service Engineers will be able to follow the comprehensive CLAAS UK training development plan, which is laid out by the CLAAS Academy and aligned with the Landbased Technician Accreditation (LTA) scheme.
This programme is designed to mirror the business requirements of CLAAS dealers and also offers career progression through the LTA tiers, from LTA 2 (Service Engineer), to LTA 3 (Master Mechanic) or LTA 4 (Master Technician). As such the Apprentice scheme is the start of a continual development cycle which will offer entrants a clear career pathway.

John Deere Reaps Gold at Agritechnica 2009


National Plough Finals are a Family Affair


Newark Vintage Tractor & Heritage Show 2009