Booths Shine at NEMSA Silver Jubilee BFL and Progeny Show
2009-08-25
The most expensive Blue Faced Leicester ram lamb sold anywhere in the country last year - now a shearling and accompanied with three of his first crop of Mule lambs - took supreme championship honours at a special show held by the Skipton branch of the North of England Mule Sheep Association (NEMSA) at Skipton Auction Mart. (Sun, Aug 23)
Robin Booth is pictured centre with his champions at the NEMSA 25th anniversary Blue Faced Leicester and progeny show at Skipton, joined by co-judges John Pedley, left, and John Bell.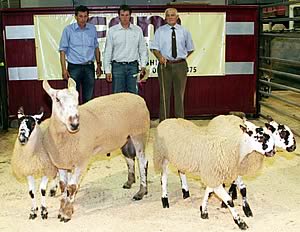 The event marked the Silver Jubilee of the branch first holding its twice-yearly annual gimmer lamb shows and sales at Skipton, and was voted an overwhelming success by all concerned.

The championship-winning pen, earlier awarded first prize in the class for progeny by a bought-in sire, was exhibited by Robin Booth, of WA & A Booth, Old Hall Cottage, Feizor, Austwick. It was headed by a shearling ram acquired for £11,500 as a lamb, last year's top UK selling price for a Blue Faced Leicester, from the Hundith Flock of Cumbrian breeder Jack Lawson, who farms at Mealsgate, near Cockermouth.

The same class also produced the reserve champion pen from Granville Fairburn, of Acacia Farm, Bradford. His ram lamb was another Cumbrian acquisition from the Redgate flock of WH & M Hutchinson, based in Ravenstonedale, Kirkby Stephen, for £3,500.

The show of 2008-born BFL rams and three of their Mule progeny was open to all Skipton branch members. The class led by a home-bred ram fell to John and Claire Mason, of Oddacres Farm, Embsay, itself a product of a WA & A Booth tup. The class winner will return to Skipton in October for the annual show and sale of BFL sheep, part of the high profile multi breed show and sale of breeding rams and females.

Ken Throup, of KM & L Throup, Woofa Bank Farm, Silsden, won the class headed by a two-shear or over ram. The home-bred was sired by a ram from Alan Barnes, of Cowden, Great Harwood, and was acquired by Ken's neighbour Richard Mawson – the duo share breeding tups.

Show judges were John Bell, of Bishop Auckland, and John Pedley, of Hawes, the current president and chairman respectively of the North of England Mule Sheep Association.

Prize money totalled £100 per class in the progeny section, plus £50 for the champion and £25 for the reserve. Sponsors were Pearson Farm Supplies, of West Marton, I'Anson Brothers, Masham, Laycocks Agricultural Chemists, Skipton, Kingsway Veterinary Group, Skipton, Farmers & Mercantile Insurance Brokers, Boroughbridge, Dalton ISD Systems, Henley-on-Thames, and High Laithe Catering, who run the café at Skipton Auction Mart.

The show was supported by an open Mules judging competition featuring three penned classes for gimmer lambs, shearlings and ewes, with divisions for 16 years and under, and 17 years and over. Robin Schofield won the former and Philip Dawson the latter. Adjudicator was Alan Barnes.

In addition, there was also a guess the weight class, won by Hannah Brown (age 16 & under) and James Porter (age 17 & over), while a competition was also held to predict the sale average at this year's big opening NEMSA Mule gimmers fixture at Skipton, on Tuesday, September 8. The sale of the judging cards raised £80 for the Sue Ryder Care Manorlands Hospice at Oxehope, Keighley.

Skipton NEMSA branch chairman Jeff Throup, of Snowhill Farm, Silsden Moor, said: "Our first –ever show at Skipton was held in 1984 and we wanted to celebrate our 25th anniversary by staging a special event.

"Many of the top NEMSA men who come to Skipton to sell their gimmer lambs entered the show – it was a fantastic display of lambs and a truly memorable and enjoyable day all-round. We would like to thank CCM for allowing us to stage the event, along with all sponsors, organisers and helpers."

Show Results: Home-bred BFL ram (born 2008) with 3 Mule progeny, any sex – 1 A J Mason, Embsay, 2 JK Wilson, Blubberhouses, 3 Ellis Bros, Addingham Moorside. Bought-in BFL ram lamb (born 2008) with 3 Mule progeny, any sex – 1 & 3 W A & A Booth, Feizor, 2 J C & N Throup, Draughton. 2-shear or over BFL ram (home-bred or bought-in) with 3 Mule progeny, female lambs only – 1 K M & L Throup, Silsden, 2 J A Throup, Silsden Moor, 3 J C Walker & Son, Dunsop Bridge.

Success Story at Skipton Beltex Highlight


NEMSA to Celebrate Silver Jubilee at Skipton


Baines Prime Beef One-Two at Skipton Triple Header