Kuhn Strengthens Local Product Support
2009-09-30
Kuhn Farm Machinery has extended and restructured its product support function in Great Britain with the deployment of six regionally based personnel to complement two further headquarters-based staff.
Kuhn's expanded product support team now includes
(from left), Phil Naish (Scotland), Phil Norman (Telford HQ),
Mick Yates (northern England), Paul Jennings (Midlands),
Robert Garthwaite (Telford HQ), Richard Pearse
(southern England), Steve Carver (Wales and West Midlands)
and Matt Grew (eastern counties).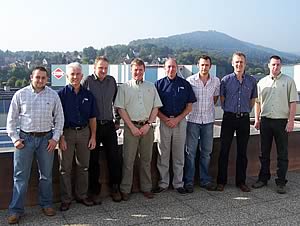 Overall, this move has doubled the size of Kuhn's product support team and will enable greater efficiency and speed of response in support of the dealer network and their farmer customers.
"This is a very positive step forward for Kuhn in a vitally important area," says technical product manager Robert Garthwaite, who leads the team. "Kuhn continues to extend its product range, most recently through two acquisitions that have added spraying and baling equipment, and this development will ensure we not only maintain but improve our levels of technical support."
In addition to Robert Garthwaite, experienced technical engineer Phil Norman will continue to operate from the company's Telford headquarters, providing service direct to dealers and in support of the regionally based team.

Record Crowd Expected for British Ploughing Championships


Flexible Finance on Kuhn Fertiliser Spreaders


McCormick Dealer HJR Agri Wins Top Award