Record Crowd Expected for British Ploughing Championships
2009-09-29
Cambridgeshire will be host once again to the British National Ploughing Championships on October 10th and 11th this year. A record crowd is expected to attend this amazing two-day event, which is taking place at Soham, between Ely and Newmarket.
Claas Axos 340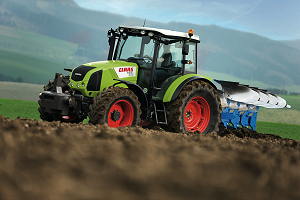 Over the last two decades England's ploughing teams have proved to be one of the most successful across the world. No less than three past World ploughing champions, three past European champions and twelve ex-British champions will be taking part in the event this year.
All the ploughmen who have represented England in overseas competitions this year will be ploughing again - Ashley Boyles from Lincolnshire and Peter Alderslade from Tyne & Wear competed in Slovenia in early September, and were placed 4th and 7th respectively out of a field of 59 world-wide competitors. South Yorkshire's Michael Watkins and Warwickshire based Richard Ingram travelled to Denmark to compete in the European Vintage Ploughing Championships and European Reversible competitors, Colin Bowen from Shropshire and Ian Brewer from Cornwall competed in the Czech Republic.
Only one lady plougher (or should it be ploughwoman?) is taking part this year - eighteen year-old Debbie Watson from Hallington, near Newcastle-upon-Tyne. Debbie is one of twenty-six young farmers who will be battling for the titles of British Young Farmer's Champion Ploughman on the first day, and also a chance to compete with the other top qualifiers for a chance to take part in the 'plough-off' finals on the second day to find the overall British National Champions. The prize they are all chasing? The honour of representing their country in the 2010 World Ploughing Contest, to be held in New Zealand.
The competitions features various styles of ploughing - modern tractors pulling conventional and reversible ploughs; horse drawn ploughs and the National Vintage Ploughing Championship, consisting of three classes with vintage tractors showing trailing, hydraulic and classic ploughs with sixty ploughmen who have fought for their places at the National Vintage Area Finals. Visitors can see displays and working demonstrations of vintage tractors and machinery dating from a 1918 Waterloo Boy, through to a 1960 Centaur Bray Push-Pull with plenty of other vintage makes and models in between. A pair of giant Fowler BB1 Ploughing Engines will also be at work pulling a 5 furrow balance plough, believed to be one of the oldest in existence.
One of the most popular events with spectators is sure to be the heavy horses, which gives visitors the chance to watch fourteen pairs of majestic shire horses at work dressed in ornate leather and finery, as these magnificent gentle giants evoke by-gone days when farming was an altogether a slower way of life.
With all of this, plus trade stands, machinery demonstrations from some of the top manufacturers and their dealers in East Anglia, the Championships promise to be a rich mixture of rural arts and crafts, aimed at the farmer and his family.
Ken Chappell, Executive Director of the Society of Ploughmen commented: "This really is a world-class event and it will be a fantastic weekend; it 's very difficult to get the message across of what a great day out it can be - it's not just ploughing! Every generation can enjoy something here - children have a unique opportunity to compare farming throughout the ages with heavy horses, steam engines, vintage tractors and the modern day equipment. Some of the older generation can remember these working the fields, and all farmers and people interested in the countryside can enjoy the huge variety of machinery demonstrations, trade stands, crafts and stalls."
The excellent site has been provided by Mr and Mrs Eric Day and main sponsors of the Championships are Goodyear and Firestone and further support has been given by J R Prescott, S Stacey, and Ernest Doe & Son.
The Championships will take place on land east of the A142, the Soham bypass between Newmarket and Ely and it will be well signed from major roads in the vicinity.

Flexible Finance on Kuhn Fertiliser Spreaders


McCormick Dealer HJR Agri Wins Top Award


Kuhn Exhibits New FBP 2135 Baler Wrapper