Flexible Finance on Kuhn Fertiliser Spreaders
2009-09-25
Purchasing Kuhn UK's growing range of farm machinery will become easier and more flexible with the introduction of the new Kuhn Finance facility this autumn.
Kuhn Axis 50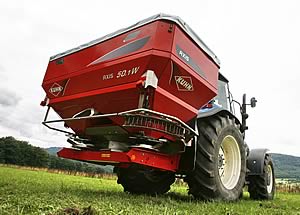 A special finance scheme offering delayed payment opportunities on fertiliser spreaders will begin in September.
Established through a new partnership with De Lage Landen, a fully owned subsidiary of Rabobank Group, Kuhn Finance will enhance the company's ability to become more innovative and responsive to market conditions compared to its earlier finance schemes.
Farmers interested in buying machines from Kuhn's Axera or Axis fertiliser spreader range this autumn will have the option of delayed payments at 0% interest on 55% of the retail price, with half of the outstanding sum due in March 2010 and the remainder due in March 2011.
"This unique offer is the first of a range of new retail schemes that we shall be offering, to help farmers spread the costs of machinery purchases and make equipment more affordable when it is most needed," says Siân Pritchard, managing director of Kuhn UK.
Further details on Kuhn Finance are available by calling 0845 366KUHN or 0845 3665846.

McCormick Dealer HJR Agri Wins Top Award


Kuhn Exhibits New FBP 2135 Baler Wrapper


New McCormick Dealers Bolster Nationwide Coverage