Kuhn Exhibits Baler Range at Dairy Event and Livestock Show
2009-09-17
Kuhn Farm Machinery heralded its entry into the baler market by exhibiting a baling and wrapping machine at the Dairy Event and Livestock Show.
Kuhn heralded its entry into the baler market at the 2009 Dairy Event and Livestock Show by exhibiting the FBP fixed chamber round baler and wrapper combination.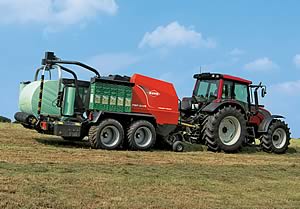 The fixed chamber round baler / wrapper combination, rebranded as the FBP 2135, will be part of a range to be introduced over the next 12 months following the company's acquisition in late 2008 of Kverneland Group's baler division. Kuhn will also now include variable chamber round balers, big square balers, stand-alone bale wrappers, rotary drum mowers, and tedder-rake combinations in its UK line-up.
The FBP 2135 offers an effective one-man operation with fast and reliable bale transfer combined with a high speed twin satellite wrapping system. In addition to conventional wrapping, the FBP 2135 has the option of a revolutionary 3-D wrapping system, which enables more uniform distribution of film across the bale surface and subsequent savings on the total film required.
The FBP 2135 is fully ISO 11783 compatible, so will work without a control box if the tractor is fitted to the ISOBUS standard. If tractors are not fitted to the ISOBUS standard, the FBP 2135 would be supplied by Kuhn with either Focus or Tellus control boxes, the latter being a tractor terminal that will run the baler as well as any other implements that are fully ISOBUS compatible.
The starting price of the FBP 2135 is £56,772.
Hydraulic drive straw blower
Kuhn Primor 2060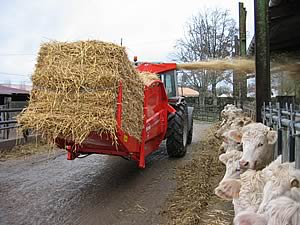 Kuhn Farm Machinery also exhibited the hydraulically driven Primor 2060 H from its range of straw blowers at the Dairy Event and Livestock Show.
Suitable for tractors of 50hp (semi-mounted) or 70hp (mounted), the Primor 2060 H will handle straw bales up to 2.0 metres diameter (round) and 2.7 metres long (rectangular).
Straw is distributed up to 18 metres to the right hand side of the machine through the action of an 8-blade turbine, which is designed to produce a regular and constant flow through a centrally positioned chute. A cab-controlled swivel chute can be fitted as an option, giving a rotation angle of 300º to improve distribution in restricted access areas - including a 13-metre reach to the left hand side of the machine.
The feed rotor provides a regular flow of straw into the turbine, ensuring even distribution and preventing over-aggressive action of the blades on the bedding material. Hydraulic drive of the feed rotor allows greater flexibility of operation, including a stop-start action (around posts for example), and also reduces the starting power requirement.
The mounted version of the Primor 2060 H has a starting price of £10,983. Addition of the optional pivoting chute costs a further £600.

New McCormick Dealers Bolster Nationwide Coverage


UK Launch for Bauer Bedding System


Farm Machinery Sales Back in Fashion