New McCormick Dealers Bolster Nationwide Coverage
2009-09-15
Farm machinery dealers keen to base new business opportunities on providing a high standard of service and parts supply are turning to the McCormick tractor range to give their operations a boost.
Steve Holder of SJH Machinery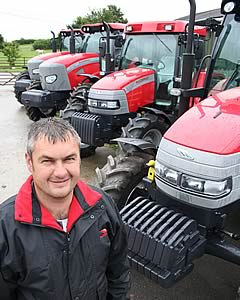 They are also bolstering the nationwide coverage of dealers backing the McCormick range with local sales, parts and service.
In Scotland, two new dealer appointments fill vacant territories, with Stuart Cook of Robert Cook Agricultural Engineers based at Girvan, covering North and South Ayrshire along the west coast south from Greenock.
Bordering the northern section of Cook's territory is Hamilton Tractors run by Jan and David Walkinshaw at Carnwath and covering North and South Lanarkshire in a territory dissected by the M74 that extends from a line between Glasgow and Falkirk south to Abington.
"We're delighted to welcome these two dealers to our existing network across southern Scotland," says Ray Spinks, general manager and sales director of McCormick distributor AgriArgo UK. "But we're very keen to talk to potential dealer outlets for the rest of the country from Perth and Angus northwards."
In Yorkshire, Marwood Machinery has been set up to handle McCormick sales and service at Full Sutton near York, under the direction of Andrew Marwood. His territory extends from York eastwards to the coast, where it borders an enlarged patch covered by Agriplus from Guisborough, Cleveland that now stretches further south to Scarborough.
In Cheshire, Barlows of Henbury, run by Alan Barlow and his son James, now covers the eastern half of the former Burgess Nantwich branch territory, bordering John Charnley & Sons to the north and Alkmonton Tractors in Derbyshire to the south.
In north Wales, Eric Harrison has resumed the business he sold to Burgess some years ago; Harrison Machinery represents McCormick throughout Denbighshire from his base near the county town.
"With PGF Agri on Anglesey and HJR Agri at Oswestry, we now have three new dealerships set up by former Burgess staff to support existing McCormick users and new ones," says Ray Spinks. "They're using their knowledge of the local market and McCormick products to do a great job for us and to develop good businesses for themselves."
Plant hire specialist and contractor Steve Holder hopes to do the same with his SJH Machinery offshoot based at Chickwood near Kington, Herefordshire.
Realising an ambition to handle a leading tractor franchise, he now represents McCormick in a territory that takes in parts of former Burgess areas in north Herefordshire and south Shropshire, as well as Collins Services, a dealership that the proprietors closed last year.

UK Launch for Bauer Bedding System


Farm Machinery Sales Back in Fashion


Deere & Company Plan Additional Investment in Russia