Keeping on Top of Fertility with Semex ai24 Heatime
2009-08-21
While increasing dairy herd numbers and yields Cumbrian producer Frank Philipson has maintained already tight fertility management without any extra labour.
Frank Philipson, left, and vet Richard Knight discuss the
Holstein milkers at Canonwinder.


Over the last two years herd numbers have increased from 157 to 180 cows aiming for 200 by the end of 2009 and yields have risen to 9,000 litres.
Frank and his wife Janet employ two full time men at the 320 acre Canonwinder farm at Flookburgh on the south coast of Cumbria and with total annual milk yields running at 1.6 million litres this equates to a production of more than half a million litres for each man managing the cows.
Keeping on top of the fertility has been as a result of the installation of ai24 Heatime (Semex) activity meters in June 2008. The Philipsons made an investment of £3,000 for the system and 70 collars which Frank says has more than paid for itself.
"We have maintained our calving interval as well as increasing cow numbers and milk yields for what would be the equivalent cost of two replacement heifers. We have also saved on semen costs," said Frank.
"The system is an extra management tool which is recording the cows' activities 24 hours a day," he added.
Herd numbers and yields have been built up without buying in any females. In the last three years heifers, which calve at just over 23 months old, have been AId with sexed semen and some of these daughters are coming into the herd this year.
In anticipation of having surplus females to sell, Frank, having used all pedigree Holstein semen, is registering the herd.
Selecting for production, type and in particular good udders and feet, recent AI sires used have been Dolman, Buckeye and Final Cut.
Data gathered with the Philipsons' vet Richard Knight, of Westmorland Veterinary Group in Kendal, who makes fortnightly routine visits to Canonwinder, revealed immediate results following the installation of the system.
The NMR recorded herd's median calving interval has been maintained and is running at 368 days with 60 per cent of the breeding herd in calf and milking.
The average calving interval of 50 randomly selected NMR Holstein herds with a lactational yield of between 9,000 and 10,000 litres is 430 days.
A Holstein at Canonwinder wearing a neck collar with transponder.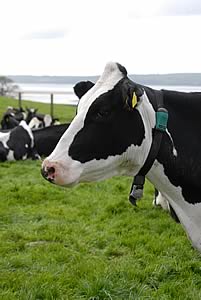 A group of 58 cows were fitted with the collars and compared with another group of 69, all of which calved from June 1 to September 17, the herd's peak calving period.
"Heat detection rates were significantly better after the installation of the system – 61 per cent for the cows with collars compared with 22 per cent for the control group," said Richard, whose practice a member of XLVets, has been working in a knowledge transfer partnership with Semex on the system.
Nine of the practice's 89 clients with dairy herds have been using the system successfully since it was launched last summer. The Philipsons have been clients of the Westmorland group for three years taking advantage of its dairy specialism.
"Calving to first service was 10 days less while calving to conception interval was the same, so by 63 days calved 20 per cent more calves were served.
"Positive pregnancy diagnoses during my routine visits were 12 per cent higher in cows on the system. There also appears to be a small reduction in the use of prostaglandin injection with more aberrant heats due to ovarian follicular cysts being detected too," he added.
Cows' activity is monitored 24 hours a day by the electronic neck collars which are detected by a reader as each animal leaves the parlour twice a day and the information is analysed by a control box.
The system can be benchmarked against previous herd activity levels to take into account such periods as turn-out.
Infrared technology gives improved accuracy of data transfer revealing exactly when a cow should be inseminated.
Richard Knight said into the teens of cows are served on dairy farms when they are not in heat and conversely when they are already in calf, wasting semen and risking a pregnancy.
"The system is very easy to use and it is farmer-friendly. Because it is monitoring the cows through the night, it picks up on cows which may only be bulling for a couple of hours and then by morning milking showing no sign. It also gives a precise time of peak activity so that I can time the AI accurately for 12 to 15 hours later and improve conception rates," said Frank.
"It has also picked up cows which are lame and other conditions such as a twisted stomach. With so many heifers coming into the herd – 40 of the current 166 milkers are heifers and there is a total of 121 heifers on the farm – it checks their activity as they are the most vulnerable group at housing," he added.
Ideally Frank would like all cows other than those which are dry to have collars. All are fitted within two weeks of calving until they are pregnancy diagnosed in calf, however the collar was left one cow which was carrying twins to monitor her progress.
He says the neck collar monitors all activity and, in comparison with a pedometer, it is easier to fit, particularly on a heifer, and does not get so dirty.
Milk is sold to Wiseman on a Tesco/Sainsbury contract and while the calving pattern peaks in August with few calving from January to March, the aim is to go for a more level pattern, placing even more emphasis on keeping a tight rein on herd fertility.
Currently the peak serving time is January and a Limousin bull is run with the herd at turnout in mid-March until June. Heifers are calved in June to replace cows which are dried off.
The herd has had an average milk price of 28.9p per litre for the 12 months to March 2009, with a March price of 27.1p.
The diet includes whole crop wheat grown on 30 acres along with silage, which is taken in three cuts, and pressed pulp fed through a diet feeder. The milkers are topped up to yield in the parlour with an 18 per cent protein concentrate.
While the farm is principally dairy, carrying 325 females, 281 of which are Holsteins, there is also a flock of 200 Mule sheep which lamb in January and some store cattle.
Although heifers are being brought into the herd to build up numbers, the average is 2.75 lactations and there are a large number of fifth and sixth lactation cows as well as some in their seventh.
The oldest cow is almost nine years old, the youngest two years four months 46 days after calving.

Farming WIthout Roots on the Scottish Border


Spreading the Word of Good Farming Practice


Low Cornriggs Herefords and Holiday Cottages