Spreading the Word of Good Farming Practice
2009-07-20
Award winning beef farmer Robert Neill is keen to spread the word of good farming practice both to fellow agriculturalists and to youngsters.
Robert and Jac Neill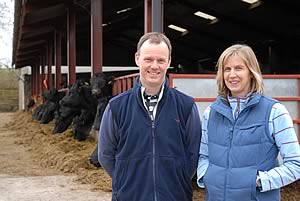 Since winning the Farmers Weekly Beef Farmer of the Year award in 2006, Robert and his wife Jac have hosted numerous groups of farming visitors and school children to their 1,082 acre tenanted unit Upper Nisbet, near Jedburgh in the Scottish Borders.
The couple took on the tenancy of Upper Nisbet, part of MP Michael Ancram's Lothian Estate, in 2000, two years after they married.
Since then they were able to expand their operation on the estate to today's farm acreage which runs from 250ft to 500ft above sea level and includes 170 acres of permanent pasture and 600 acres of arable land growing winter barley, winter wheat, spring barley and beans for home consumption, the remainder of the ground being three year grass leys as part of the seven year crop rotation.
A further 200 acres of summer grazing are rented on a neighbouring farm.
Robert and Jac work closely with the rest of Robert's farming family 18 miles away in north Northumberland.
Robert's brother Tom milks 200 British Friesian dairy cattle which are put to the Limousin bull and provide replacements for the suckler herd at Upper Nisbet. Father George, who is chairman of auctioneering company John Swan, and younger brother David specialise in sheep.
As well as the herd replacements which come to upper Nisbet as bulling heifers at 18 to 20 months old, 400 ewe lambs are kept on the farm for 12 months before returning to Northumberland as flock replacements helping to improve the grassland.
The cross-border system works well however movement restrictions caused recently by foot and mouth and Bluetongue have posed problems.
"We work together and don't need to employ contractors such as at silage and harvesting times and we have enough need to justify our arable machinery. I also do some contracting work for a neighbour," said Robert.
"We have one shed dedicated to the finishing cattle with another batch coming on behind. ... "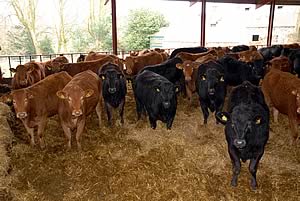 The cattle and the arable enterprise are a good complement for each other. The suckler cows are put back to the Limousin bull and calves are finished on the farm and sold through St Boswells market 11 miles away 52 weeks of the year.
The herd is now nearing its optimum number of 300 cows some of which are up to seven eighths Limousin.
Cows calve in the spring and early summer in straw bedded courts before turnout with calves being creep fed to prevent a check at weaning and the finishing cattle are managed so that there is a steady supply of up to six animals each week to meet the demands of local butchers.
They are finished at below 600kg to ensure a manageable size for the butcher as well as enabling the cuts to be kept smaller. Again saving on food miles, the cattle are slaughtered at Galashiels and they kill out at 60 to 65 per cent.
"We have one shed dedicated to the finishing cattle with another batch coming on behind," said Robert. "All the heifers are grazed outside for the second summer because if we push them too much they get fat however the better the conformation of the animal it keeps growing and puts on muscle.
"We sell steers from 13 months old up to 24 months. The most profitable are the youngest ones that leave the farm and the performance slides after 18 months old," added Robert.
He was introduced to electronic tagging after agreeing to do a trial a couple of years ago. All the cattle are electronically tagged and weighed regularly and before they are sold.
Robert at the crush which is incorporated
into the cattle handling facility
made on the farm.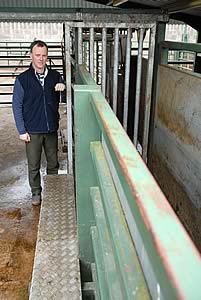 They are weighed in a handling system made in the on-farm workshop and recorded using a New Zealand system. Computerised Farmplan records have been kept since 1997 which greatly aid in identifying performance of terminal sires. Cows are also freeze branded for ease of management.
"The bulls go out on June 1 and we try not to swap any bulls so that the performance of their progeny can be monitored from conception to plate," said Robert.
A number of bulls used successfully on the cows have been bought from John Logan's Homebyres herd at nearby Kelso including the most recent, bought at the February Carlisle sale for 10,000gns – Homebyres Consort, the senior reserve champion, a Cloughhead Umpire son with a beef value of +31.
Robert's aim was to produce quality cattle for local butchers and the Limousin has helped him fulfil that as well as heifers also being able to be kept on as cows.
To build up herd numbers, half the 50 herd replacements have been home bred Limousin cross heifers.
"I look for a bull with extreme muscling, conformation and good figures. To get a premium in any market you need that extreme conformation to attract the eye of the butchers and we take a pride in presenting the animals well.
"We produce a brochure which we give to the butchers who have bought our cattle for their customers which lets them know that they have been fed entirely on home produced feed and they have a high health status."
The cattle are fed through a Keenan diet feeder on home grown cereals, hay straw and clamp silage. Only minerals are bought in.
Silage and barley are fed to younger cattle and cows and the finishing cattle are fed ad-lib wheat, barley and beans, the latter for protein, having replaced soya meal which was imported and its non GM status could not be guaranteed.
All the straw is used on the farm, producing as much manure as possible to be used as fertiliser.
Herd replacements are either home-bred or from the family's dairy farm – only bulls are bought in.
All the family's farms are members of the SAC Premium Health Scheme and the cattle at Upper Nisbet are vaccinated against BVD, Leptospirosis, Bluetongue and scour as are the dairy cows.
Robert said: "I'm also keen to promote British farming and I am involved with the Royal Highland Educational Trust which gets school children onto farms and also its farmer members visit schools which I find very satisfying."
As well as farm visits, Upper Nisbet is host to a two day competition in October 2010 for the Scottish and European ploughing championships run over 200 acres of stubble.
In July 2010 the South East Scotland region of the British Grassland Society is organising the society's annual open day there

Low Cornriggs Herefords and Holiday Cottages


Glenariff Beef Shorthorns at Home in Norfolk


The Future is Bright for Ayrshires at Sunny Bank