Sunny Hill Eggs & Soldiers
2009-08-14
Eggs are synonymous with soldiers and in an unusual twist on the traditional coconut shy, Belford based Sunny Hill Eggs will be putting their eggs to good use at the Glendale Show raising funds for the Help for Heroes charity.
Visitors will be invited to knock cartoon chickens off their perches with mini rugby balls.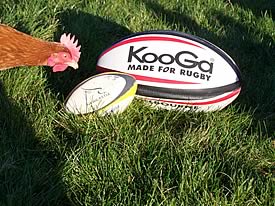 The 15,000 visitors, expected to pass through the turnstiles on August 31st will be invited to knock cartoon chickens off their perches with mini rugby balls - just like the ones Sunny Hill chickens play with on a daily basis. All proceeds raised will go to help service personnel wounded in current military conflicts including Afghanistan and Iraq.
Run by sisters Christine Jackson and Catherine Armstrong, Sunny Hill were keen to raise funds for Help for Heroes given the North East's strong links with the armed forces. Christine said, "Like everyone we watch the news and see many of our young service personnel returning home severely wounded.
We came up with this idea to help raise funds and we hope that as many people as possible will stop and have a go on August 31st." The Glendale Agricultural Society who organise the show were only too happy to help out and find them space at the event. The Sunny Hill "chicken shy" will be situated on the Wooler Showfield, it will be £1 a turn and all the money raised will go directly to the charity.
Show Secretary Rachael Smith said "We think the chicken shy is a great idea. The Glendale Show is all about fostering a sense of community and we hope that this will raise a lot of money for this very worthwhile cause as well as being a lot of fun for visitors."
Help for Heroes is the brainchild of author and illustrator Bryn Parry, a former Green Jacket and his wife Emma who wanted to raise funds for members of the armed forces wounded in current conflicts. Improved medical services on the front line mean more service personnel return home but then face a long battle of recovery and readjustment. Help for Heroes works with soldiers and other servicemen and women both directly and through other service charities and has the blessing of the head of the army, Chief of the General Staff, General Sir Richard Dannatt.
Sunny Hill Eggs is now the largest producer of free range eggs in the North East. From its headquarters in Belford, its 57,000 chickens produce some 1.5 million eggs a year. All the hens nest in state of the art sheds and are free to roam in their fields overlooking Holy Island. Sunny Hill believe these traditional methods result in better quality eggs. And visitors will be able to find out for themselves as anyone skilled enough to knock a chicken off its perch will win half a dozen freshly laid eggs and other goodies.
The Glendale Show takes place on Bank Holiday Monday, August 31st from 9.00am to 17.30pm at the Wooler Showfield in Northumberland. The show includes equine and livestock classes, main ring entertainments, food, craft and horticultural marquees and over 200 trade stands.

CLA Calls for Radical Rethink on Food Security


Future Beef Cattle Supplies to Remain Tight


Hillview Herd Wins EBLEX Award for Stabiliser Breed