REAL Treats Await Youngsters at Kilnsey Show
2009-08-16
Hands-on opportunities aplenty – including a chance to get to grips with locally produced food - await young people visiting this year's annual Kilnsey Show, on Tuesday, September 1. It takes place in the shadow of famous Kilnsey Crag, north of Skipton.
Children rise to the occasion at last year's Kilnsey Show, as top chef Andrew Wood demonstrates the art of bread-making. He's back again this year.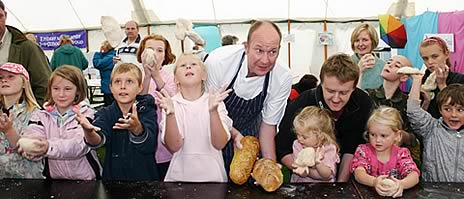 The children's area in the marquee run by REAL Food & Farming will provide fun and interactive entertainment for youngsters of all ages … and what's more, it's all free, with entry covered by general admission charges.

Planned activities include a chance to meet Peter J Murray, local author of the spooky Mokee Joe books, who will be entertaining children with readings from his stories throughout the day. This is particularly relevant to REAL, as Peter's latest book is set in the limestone hills of the Yorkshire Dales. He lives with his family on the moors near Ilkley and draws inspiration from walking in this dramatic landscape.

Award-winning chef Andrew Wood will be returning to run bread-making sessions that proved so popular last year. Andrew gave up his job as a top chef at the Ritz Hotel in London to cook dinners for university students in York, winning the University Chef of the Year title in 2006 and Tilda Chef of the Year in 2007. At Kilnsey, he will be using local flour to teach children how to make some dough!

Hesketh Farm Park, part of a 600-acre working farm on the nearby Bolton Abbey Estate, will be bringing along rabbits and guinea pigs who love to be cuddled and are just waiting to make friends with all the children. Fluffy the giant tortoise may also be putting in an appearance.

In addition, there will be lots of opportunities for colouring and drawing, games, biscuit decorating, fruit kebab-making and many more activities. Ladies from Embsay Playgroup and The Dales Playgroup in Grassington will be on hand to offer assistance throughout the day.

The children's area, open all day from 9.30am, will form part of the wider REAL Food & Farming 'village' at Kilnsey Show, which will showcase the diversity of activities that take place in the Yorkshire Dales uplands.

The focus this year is on local food production and the village will feature a cookery theatre, farmer's market, outdoor displays and a marquee for organisations and businesses involved in the uplands.


Farming Women's Workshops Launched at Dairy Event


Kilnsey Show Entry Deadlines Loom


Save the Children at Welsh National Sheepdog Trials