Save the Children at Welsh National Sheepdog Trials
2009-08-04
A children's charity has teamed up with the Welsh National Sheepdog Trials to make a difference to the lives of children living in Wales and around the globe.
Jim, a 9 year old Border Collie who will be competing at this year's Welsh National Sheepdog Trials gives a helping paw to Save the Children.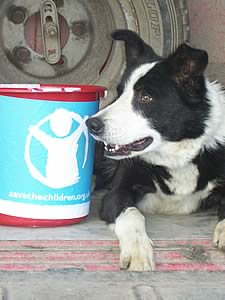 Save the Children in Wales will be present at this year's Welsh National Sheepdog Trials held at Llanafan and Brynafan Farms in Llanafan Fawr, near Builth Wells between 13 – 15 August.

Volunteers for the charity will be going around with collecting buckets during the three-day event and we will also have a stall where people can come along and learn more about our work here in Wales and internationally. This will include an opportunity to sign up for the 'Make Your Mark' campaign for the children of Africa and hear about our latest emergency recruitment initiative.
Jessica Evans, Community Fundraising Executive for Save the Children in Wales said: "We are very grateful to the Llanafan Fawr Welsh National Sheepdog Trials Committee for inviting us along to this event and we look forward to meeting new people to talk about our work and maybe recruiting new volunteers who are interested in getting involved with future fundraising and awareness campaigns."

Over 150 competitors are expected to take part with the final rounds held on the Saturday when 15 Welsh winners will be chosen to go on to the
international trials held in Cumbria later in September.

One of the respected commentators at the Welsh trials since 1971 and an avid competitor who will be competing again this year is S4C's Cefn Gwlad presenter, Dai Jones, Llanilar.

"The Welsh National Sheepdog Trials is a day out for all the family with plenty of stalls around and a chance to see the masters at work. We have a close-knit community in the sheepdog trials and we all enjoy coming together to discuss our dogs and how the competing has gone. I'm looking forward to this year's event at the beautiful village of Llanafan and like the sheep and dogs, I'm sure people will be flocking there in their thousands," said Dai.

Mr Roy Jones, Chair of the Llanafan Fawr Welsh National Sheepdog Trials Local Committee added: "We are looking forward to welcoming competitors and spectators from all over the country to this year's trials and we are delighted that Save the Children will be joining us at this year's event."

Admission is £3 for adults plus £3 for parking with free entry for children and members. The venue is signposted on the B4358. For further information about the trials contact the Llanafan Fawr Welsh Sheepdog Trials Local Committee Secretaries on 01982 552167 or 01591 620 412




Diversifarm Features Renewables at the Dairy Event and Livestock Show


Hexham Venue for Beef Expo 2010


The Glendale Agricultural Society Farming Award