Fullwood Celebrates 225 Years with a New Merlin
2009-08-26
In 2010 Fullwood celebrates 225 years in business. To mark this anniversary the company is pleased to introduce the new Merlin 225, their latest high capacity milking robot.
Fullwood offers a complete range of milking solutions,
including the Merlin – the very latest automated system.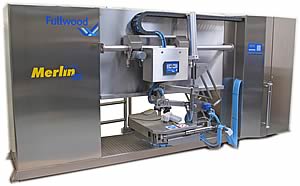 Merlin 225 has a new streamlined look which has the added benefit of being more hygienic and easier to service. The latest model also enhances feeding and cow comfort. Further improvements to milking technique and general hardware of the machine have been incorporated to improve performance and capacity. This will further endorse Fullwoods' position as a world leader in automatic milking machines.

Merlin 225 milks cows automatically, feeds the cows, manages milk quality, monitors animal health, detects cows in oestrus and automatically separates animals requiring attention. All these functions are managed by Crystal, Fullwoods' complete herd management software.

Combined with Packo cooling technology, the new Merlin 225 offers farmers the complete high performance system for automatic milking.

Merlin 225 is being officially launched at this year's Dairy Event and Livestock Show at Stoneleigh, UK on 16th and 17th September and will be available through the Fullwood worldwide distribution network later this autumn.

Lloyd Leads High £PLI New Entries in August Holstein Bull Proofs


Semex Introduce Three New Holstein Bulls to Line-Up


Three New UK-Proven Cogent Holstein Bulls