Lloyd Leads High £PLI New Entries in August Holstein Bull Proofs
2009-08-26
Co-op Oman LLOYD at £226 PLI is the highest PLI sire of all new entrants onto the latest (August) Holstein UK bull proof listing and is one of three new releases from Bullsemen.com with a PLI over £200.
A daughter of one of the latest Bullsemen.com releases Co-op Oman Logan, one of three new Holstein bulls from the company with a PLI over £200.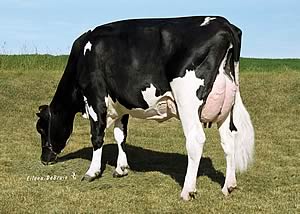 A son of top PLI sire O-Bee Manfred Justice out of dam BW Marshall, Lloyd is from US co-operative CRI and fully reflects his pedigree with an outstanding +886kg for milk and +33.1kg fat (+63kg fat and protein combined), and -22 for somatic cell count. With a Type Merit of over +1 indicative of very strong linear traits, Lloyd is a new star performer within Bullsemen.com's Minimum Standards recommendations of £100 PLI, +1 Type Merit and +200kg milk.

Lloyd's full brother Co-op Oman LOGAN brings similar potential to Bullsemen.com's latest catalogue with £209 PLI, +798kg milk and a combined fat and protein of +57kg. Logan is also a somatic cell count reducer with a rating of -15 and has an impressive Type Merit of +1.51.

Another O-Bee Manfred Justice son Dansire Oman OMAR completes the over £200 PLI treble for Bullsemen.com. Like Lloyd and Logan, Omar comfortably qualifies for Bullsemen.com's Minimum Standards catalogue with a £202 PLI, +495kg milk and +1.11 Type Merit. Omar has a combined fat and protein figure of 53.1kg and is another somatic cell count improver with a -8 rating.

Semex Introduce Three New Holstein Bulls to Line-Up


Three New UK-Proven Cogent Holstein Bulls


New Number One Friesian Bull Edges Out Current Leader