Superb Tee Off Helps Semex Hit the Perfect Round
2009-08-26
Following the August proof run Semex has introduced three new bulls to their line-up.
From the famous Gypsy Grand family Rietben Tee Off makes his debut in the August proof run as Semex's highest ranked type sire at 3.59 UKTM (+16 Conformation in Canada).
Rietben Tee Off Daughter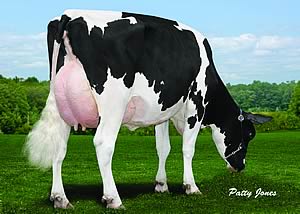 "Tee off daughters are very consistent and uniform." according to Willie Tait, Semex Genetics Manager. This son of Titanic, out of a VG-88-4yr Gibson dam delivers big scores for Mammary (+16 CAN and + 3.25 UK), Feet & Legs (+13 CAN and + 2.56UK). "With an extremely consistent breeding pattern, backed by one of the most prolific cow families Tee Off is a combination that will make a big impact with UK dairymen," adds Mr Tait.
Tee Off specializes in both udders and feet and legs, siring shallow udders very reminiscent of those from his maternal grandsire, Gibson. His daughters walk on exceptionally deep-heeled feet and have great mobility.
Also making his debut this proof round is the latest true red son from the renowned Pursuit September Storm, La Presentation Picolo Red.
Picolo Red enters the Semex line-up with an impressive +13 Conformation and +2.27 UKTM and double digit scores in his Canadian Proof for Mammary, Feet & Legs and Dairy Strength.
"This is a sire that excels in dairy strength, "says Willie Tait. "Picolo daughters track well on solid feet and legs. They are stylish with great balance siring tall, long-bodied cows with deep open ribs, strong toplines and udders that are silky and well-attached."
Continuing Semex approach to introduce bulls that work across different systems, the Semex line-up is further strengthened with a new high ranking Oman son ideal for commercial dairymen, Mainstream Manifold.

With multiple Oman sons in the top rankings, Manifold will offer Semex customers an extremely balanced proof, backed by a deep pedigree.
"Manifold daughters are cows for the commercial sector with desirable production and pleasing functional type, "says Willie Tait. "They are medium-sized, strong cows, with sound feet and legs for excellent mobility making them ideal for UK systems. Manifold is very easy-calving sire, positive for fat and protein % and with over 800kg milk. Overall Manifold is a very profitable package".

Three New UK-Proven Cogent Holstein Bulls


New Number One Friesian Bull Edges Out Current Leader


Dominance of O-Man Genes Continues in the August Run