Gold Medal for Case Puma CVX 225 in Brno
2009-07-30
Case IH wins award at the National Show of Livestock and Agricultural Equipment in Brno, Czech Republic.
The new PUMA CVX 225 convinced the jury and won the Gold Medal at the trade fair in Brno.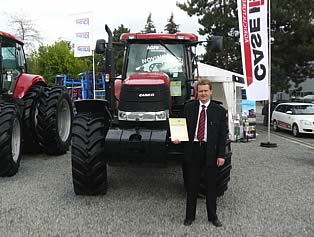 Once again Case IH has shown to be the leader in revolutionizing agricultural mechanisation. At the show opening of the National Show of Livestock and Agricultural Equipment in Brno, the best exhibits were awarded by a Jury of Assessment. The new PUMA CVX by Case IH and exhibitor Navos Farm Technic s.r.o. won the Gold Medal for the best wheeled tractor.
Pavel Novák, Marketing Manager AGRI CS a.s., is particularly pleased: "Our drive has always been to increase the productivity, efficiency and comfort of our customers. With the new PUMA CVX we have managed to offer the simplest and most intuitive vehicle to operate."
Puma CVX continuously variable unleashed
The new Puma CVX tractor series was developed, tested and is assembled at the Case IH European manufacturing headquarters in St. Valentin, Austria.
With five models, ranging from 167 to 224 rated horsepower, Puma CVX tractors builds on the proven experience and leadership of more than 10 years of CVT transmission design. It features a new generation of continuously variable transmission that is designed to deliver the maximum amount of power to the ground for primary tillage, cultivation, drilling and transport.
The advanced ergonomic control layout, featuring the latest Multicontroller™ armrest and A-post instrument panel, makes the Puma CVX extremely easy to use.
These features and Case IH APM™ mean you can concentrate on the task in hand while your Puma CVX takes care of productivity and fuel efficiency.

Drum Mower Range Extends Kuhn's Grassland Machinery Credentials


McCormick F80 Tractor Suits Poultry Enterprise


Puma CVX Adds to Case IH Awards at the Royal Show