Drum Mower Range Extends Kuhn's Grassland Machinery Credentials 2009-07-29
Drum mowers are to be incorporated into Kuhn Farm Machinery's grass harvesting range following the acquisition in late 2008 of a division of the Kverneland Group.
Rear and front mounted mowers will be available in the
Kuhn drum mower range.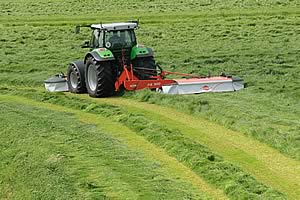 Kuhn's range will include rear mounted drum mowers from 1.65m to 3.3m working width as well as trailed and front mounted models and a 9.0m triple gang. The range will also include drum mower conditioners in front and rear mounted formats.

Previously marketed under the Vicon and PZ brand names, the range will incorporate some of the more advanced features available on this type of machine, including patented flat-sided drums with replaceable transport plates that ensure fast and effective movement of crop through the unit. Other features on certain models will include auto-reset break-away for added protection and quick fit blades for reduced down-time.


Trailed drum mowers will be robust in design and easy to operate, and will fit well with established Kuhn machines.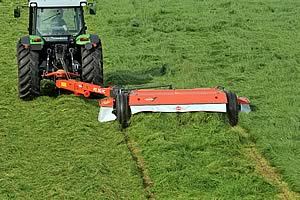 Design features to ensure good ground following and consequent close and accurate cutting will include freely rotating saucers – on all models – whilst the front mounted machines operate with a pulled suspension system again in the interests of accurate trouble-free performance.

The drum mower range will be integrated into Kuhn's existing grass machinery range over the next 12 months along with balers, bale wrappers and tedder/rake combinations that were included in the acquisition.

McCormick F80 Tractor Suits Poultry Enterprise


Puma CVX Adds to Case IH Awards at the Royal Show


John Deere 7030E Series Tractor Wins Royal Show Award