McCormick F80 Tractor Suits Poultry Enterprise
2009-07-28
Investment in better equipment is always on the agenda for farm-based businesses but there has to be an economic argument to justify them.
The tractor is small enough to get into the poultry sheds with its roll-bar folded down yet its build, hydraulics and 75hp engine make it man enough to handle loading, spreading and trailer work with ease.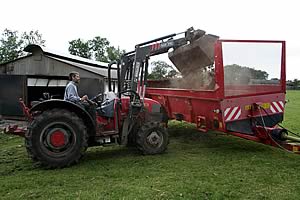 For Jeff Cracknell's free-range poultry business, installing walk-in freezers and buying a new tractor are both easily justified.
"The freezers enable us to store slaughtered birds and adjust supply according to fluctuating demand," he points out. "The new tractor replaced two smaller machines that couldn't cope with a growing workload and were becoming both expensive and time-consuming to maintain."
As more people have become prepared to buy quality produce with a sound provenance, so Jeff has seen orders grow; so much so, that orders have doubled over recent years. Typically, he supplies 200 chickens every week, 100 ducks every three weeks and a fair number of geese at Christmas from his farm at Pickhill near Langport, Somerset.
All poultry are reared, slaughtered and prepared ready for sale to a number of local butchers in the area, who want quality birds from free-range production.
"Demand does fluctuate from time to time so investing in new freezer capacity helps us keep production, supply and demand in balance," says Jeff.
With batches of 500 four-week old chicks arriving on the farm every fortnight for a six-week production cycle and day-old ducklings taking approximately eight weeks to fatten, the number and turnover of birds being raised creates a hefty regular workload.
The sawdust or straw bedding used in the poultry sheds is cleaned out every two weeks and spread straight onto the fields. When it came to the point that Jeff's two 40hp tractors could no longer keep up, he cast around for a single replacement.
"The loader tractor's front axle kept breaking and the four-wheel drive was a bit hit or miss," he explains. "Keeping the two old tractors up together was getting more expensive and often time consuming."
The solution? A new tractor powerful and tough enough to cope with the workload and with four-wheel drive to cope with the muck spreader when conditions are less than ideal underfoot – but also small enough to take a loader into the poultry sheds for cleaning out.
The McCormick F80 supplied by north Somerset dealer Uphill & Sons at Chewton Mendip near Radstock has proved perfect for this role.
Tractors from the McCormick 'F' series are designed primarily for work on fruit farms, so they are small enough to work in orchards and among soft fruit bushes but powerful and strong enough to handle specialist fruit equipment, including wrap-around apple harvesters. The F80 has a 75hp Perkins engine under the bonnet.
"When I first had a look at the tractor, it had a small loader fitted that wouldn't allow the roll bar to be folded down – which is something I needed to get into the low poultry sheds," Jeff recalls. "The answer was to swap the loader for a bigger one with wider-spaced arms; it doesn't overload the tractor because we're lifting bulky but light material."
With its open platform and fold-down roll bar – a cabbed version is also available – Jeff Cracknell's McCormick is small enough to fit into the chicken sheds yet powerful enough to handle the farm's 7 tonne trailer and 5 tonne muck spreader.
"It's easy to get on and off and the seating position gives you good visibility," he says. "All the controls fall to hand so it's easy to drive and I also like the solid build."
Apart from the improvement in reliability, the tractor has also provided a big improvement in loading speed thanks to the more powerful and responsive hydraulics. So, despite replacing two tractors with just one, the daily workload is handled more efficiently than before.

Puma CVX Adds to Case IH Awards at the Royal Show


John Deere 7030E Series Tractor Wins Royal Show Award


John Deere 3036E - New Value Line Compact Tractor