Glenariff Beef Shorthorns at Home in Norfolk
2009-05-18
Norfolk cattleman Nick Barrett runs 150 head of pedigree Beef Shorthorns – yet he has no farm and only owns 30 acres of land.
Nick Barrett with his bull Glenariff Alaska which is
entered for the Carlisle sale on Friday (May 22).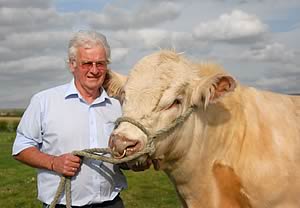 Such is his dedication that he can travel up to 45 miles in a day checking his stock on the hired land scattered around his home Glenariff, named after a picturesque valley in Northern Ireland, at South Wootton near Kings Lynn, up to 200 acres of which is on the 28,000 acre royal estate of Sandringham.
Nick and his wife Annalain founded the Glenariff herd in 1989 with two maiden heifers from Willie McGowan's Fingask herd at Cupar, Fife and two maiden heifers from Major John Gibbs's Glenisla herd draft sale in Perthshire.
Like their passion for breeding Gloster Fancy Canaries for which they have world-wide acclaim, the Barretts bred their current herd now numbering 70 breeding females from those original foundation cows.
With no background in farming, Nick studied agriculture at Norfolk College of Agriculture, specialising in farm animal husbandry and management.
From 1959 to 1976 he worked with dairy cows, beef cattle, sheep and breeding pigs gaining a valuable all-round experience.
For the next 29 years until 2001 he worked as senior animal health inspector for Norfolk County Council during which time he was involved with farm animal welfare, advisory animal health law and tuition to farmers, local government departments and the RSPCA.
So it is not surprising that their Shorthorn cattle, canaries and flock of 45 Kerry Hill sheep all have a high health status.
"I had worked with cattle all my life although my family background had nothing to do with farming," said Nick.
A Beef Shorthorn cow suckling her own calf and allowing another cow's calf to drink.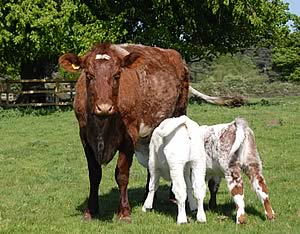 "I knew the Beef Shorthorn was a native British breed with a longer history than any other breed but I knew little else about them. I had seen the cattle DJ and JM Taylor showed with great success – big, thick-set heavy cows – and I liked them."
When the Barretts set out with their herd they only intended to run half a dozen cows and a bull, however, numbers have expanded to the current herd size, spurred also by their son Andrew's enthusiasm for livestock.
After gaining his National Diploma in agriculture at Kirkley Hall College in Northumberland, Andrew gained experience from 12 months working in Australia and New Zealand and he now runs a successful contracting business as well as managing the Beef Shorthorn herd with his parents and his wife Danielle.
The main investment in the herd has been the purchase of breeding bulls. Numbers have been built up from a total of eight purchased females with the emphasis on buying families which have included Lancaster, Broadhooks, Princess, Flossie, Rothes, Ruby, Katrina and Gina.
The herd's first stock bull Chapelton Eagle by Uppermill Lang, left his mark on the herd, siring the 2002 Royal Show female and reserve breed champion Glenariff Lancaster Krystal out of Fingask Lancaster Petula. The heifer Chapelton Princess joined the herd at the same time as Eagle.
The next stock bull, Uppermill Lister was bought in Perth as an over aged bull for only 1,000gns and he was retired in 2008 at the age of 17. So good was his progeny that a lot of the females in the herd today are by him. In the show ring he was overall reserve champion at the Royal Show.
Chapelton Legend followed – although not big he was a very correct bull and is the sire of current stock bull Glenariff Washington. He was sold to Eddie Mills for his herd in Gloucestershire.
Uppermill Beggar brought stature to the herd and he had an illustrious show record winning the Royal Welsh Show and the breed championship twice at the Great Yorkshire Show before being sold on to pedigree breeder Peter Kelly in County Carlow in the Republic of Ireland.
Current stock bulls are six year old Glenariff Washington by Chapelton Legend, four year old Glenariff Yashin by Chapelton Tyco and three year old Tofts Hector bought in Perth in February 2007 for 8,000gns.
"The huge selling point of the breed is its docility which is important for us when there is just Andrew and myself looking after the cattle. Our cattle outwinter and do well," said Nick.
Not surprisingly, Nick puts the health of his animals as a priority. The cattle are in the SAC health scheme and are vaccinated for BVD and tested clear of other diseases. The herd is on a four year TB test.
The Barretts are also careful to handle their animals gently which further enhances temperament and as an example Nick never pulls a bull by its ring.
Bulls are sold mainly privately from Cornwall to Caithness and in between as well as into southern Ireland, mainly to pedigree breeders, and testament to the quality and reliability of the bulls is that the buyers come back for more. The bull Glenariff Alaska is entered for the Shorthorn Society sale in Carlisle on May 22.
"We try to be sensible about the price as we want to encourage as many people both pedigree and commercial breeders to use the Shorthorn. We always follow up to see how our bulls are doing," said Nick.
Fertility in the Glenariff herd is high. Heifers are calved at 30 months old in August and September and then they are brought back in line with the rest of the herd which calves from March onwards.
The cattle are fed a basic diet in the winter of hay, straw and feed blocks with some concentrate with minerals and trace elements. Potale syrup has been used this winter.
"If you feed breeding stock too well there is a price to pay for it. The bulls to be sold are well-fed but we don't want excess body condition which then puts them off their feet and be too heavy to serve the cows. Fat covers a multitude of sins," said Nick.

The Future is Bright for Ayrshires at Sunny Bank


Black and White Cattle Breeding in the Blood


Bitten by the Cattle Show Bug