Lantra Assists Next Generation of Farmers
2009-07-29
After a narrow miss with the weekend flooding in Durham, the annual final of the Northern Area Stockjudging took place at Darlington Auction Mart last week.
Young Farmers grading their stock.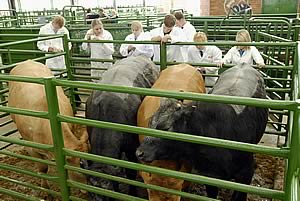 The competition to find the Young Farmers Stockman of the Year and the Young Stock Judge was the culmination of many months of training made possible with support from LandSkills North East (Lantra). In the region of 150 young farmers from clubs across the North of England took part in the competition.
Under the watchful eye of Northern Area Stockman Chairman Mrs Claire Wase they had to appraise Pork Pigs, Dairy Heifers, Continental Bullocks and Butcher's Lambs. The winners who now go forward to the National Dairy Event in September were:
Young Farmer Stockman of the Year
John Critchley Lancs A; Joint 2nd Claire Sedgewick Co Durham and Katheryn Alderson Yorks C.;
Young Farmer Stock Judge
Hannah Ormonryode Yorks B; 2nd Frances Griffiths Yorks A; 3rd Edward Benn Cumbria A.
Stock judging is extremely important for the rural community as it helps competitors understand the finer points of pedigree livestock breeding. It highlights the essential traits breeders are looking for in their pigs, sheep and cattle. However due to costs and time pressures, competitive stock judging events are becoming increasingly rare. In the case of the Northern finals, the preparatory training and mentoring, stock judging, stock husbandry, health and welfare was funded with assistance from Lantra. Commenting Project Manager Peter Nailon said, "As an organisation Lantra is committed to fostering these skills in the next generation because as an industry farming requires an increasingly skilled workforce and we thought it very worthwhile to help these Young Farmers complete the necessary training for the competition."
The Durham team who hosted the event.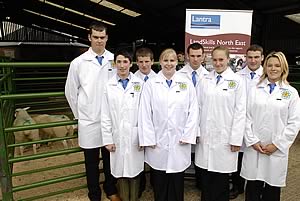 The stock was supplied by Mr Kirkup Dairy Heifers, Mr N Hodgson Prime Bullocks, Butchers Lambs Mr Gilson and Pork Pigs Mr Bradley. The event was sponsored by W A Grice Livestock Haulage, Carrs Billington, S&A Fabrication, and David Ritchie Implements Ltd. Health and Welfare Questionnaire were provided by Castle Vets Barnard Castle. The Young Farmers Club members came from Cumbria, Northumberland, Lancashire, East Riding and Yorkshire as well as the host County Durham.
LandSkills North East, is managed by Lantra on behalf of One North East and forms part of the Rural Development Programme for England, funded by the European Agricultural Fund for Rural Development and Defra. It provides training for those working in the agricultural and forestry industries and anyone wishing to find out more about their services can contact Peter Nailon on 01388 517199 or email peter.nailon@lantra.co.uk

LandSkills North East Sowing Seeds of Change


Lloyds TSB Agriculture Offers Help and Support


Interest and Exchange Rate Stability Provide Platform for Growth