LandSkills North East Sowing Seeds of Change
2009-06-21
Rural businesses throughout the North East are being urged to apply for their share of a £1.2 million training grant with the help of LandSkills North East as part of the Rural Development Programme for England (RDPE).
Project Manager Peter Nailon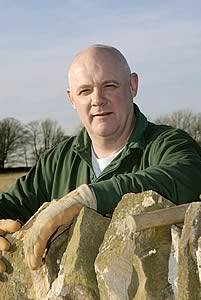 LandSkills North East, managed by Lantra on behalf of One North East, is supporting the growth of existing agricultural and forestry businesses with relevant training and skills development. The project offers up to 70% funding to assist with all types of training and knowledge transfer activities from general business skills through to technical training and advice on animal health and resource management.
To meet the region's strategic objectives, there are currently two main strands to the training on offer – firstly, strategically LandSkills North East can help businesses understand how to comply with the current legislation relating to animal health, nutrient management, to consider how best to influence and manage supply chains to market, product development as well as general business management skills and development. Secondly LandSkills North East is a demand led project, so if people have a training need which is not currently available the project can try to source a provider for that training on a group or individual basis.
An example is the support provided to the North Northumberland Training Association, to organise a series of specialist farmer discussion groups over the winter period, where a group of experienced and younger farmers from a variety of farms, attended meetings on farm locations to listen to high quality specialists on the topics of interactive animal health plans, low intervention sheep management, wintering options for cattle, high welfare handling systems for efficient management and marketing benefits through improved animal health and welfare.
Beneficiary, Suzanne Horn from Hedgeley Farms said: ""I enjoyed the topics covered in the meetings I attended, which focused on current farming and food chain production aims. Combining both an expert speaker and a relevant farm venue, provided excellent practical advice which I will use to improve efficiencies at my farm."
Counting up until the end of April 432 people have benefited from the LandSkills North East programme covering a diverse range of projects including training Teesdale farmers for the Level 2 NPTC Sheep Dip qualification; leading agricultural discussion groups on animal health and welfare; helping Young Farmers in Durham and Northumberland to practise their stock judging and who in the near future will be given the opportunity to brush up on their leadership skills.
The project is currently arranging workshops on soil management using PLANET software in conjunction with ADAS and Strutt and Parker. It is supporting improved water management and irrigation in the Till Catchment area in association with Cheviot Futures whose partners include the Tweed Forum, The Environment Agency and The Northumberland National Park. LandSkills North East is also working with five veterinary practices across the region to deliver training on the ways to spot, control and prevent disease and other health conditions in flocks and herds to more effectively increase business efficiency to ultimately reduce costs.
There is a huge amount of training support being offered through LandSkills North East to anyone working in agriculture, forestry or any associated businesses. The project can support both accredited and non accredited training. So to find out more or to see if your training needs are eligible contact Project Manager Peter Nailon on 01388 517 199

Lloyds TSB Agriculture Offers Help and Support to Customers Affected by Dairy Farmers of Britain Collapse


Interest and Exchange Rate Stability Provide Platform for Growth


Sir Ken Morrison to be the Yorkshire Agricultural Society President