Borderway Upgrades Ready for Autumn Sales
2009-07-20
Work at Borderway, Carlisle, on roofing the remainder of uncovered livestock pens along with yard pennage renewal will be completed in time for the start of the busy autumn sales sheep and cattle sales programme in August.
Harrison & Hetherington managing director Brian Richardson, left, and operations director David Pritchard with the new pens and roof at Borderway.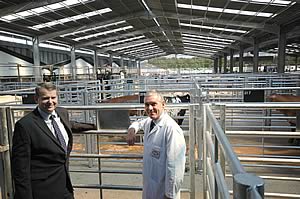 Harrison & Hetherington is investing around £350,000, part of the mart company's ongoing programme of improvements and renewals its sales centres across the north to provide the best possible facilities for its customers.
The galvanised steel construction with fibre cement sheeting and roof lights is the third span of the roof and it will cover 1,295 square metres including some existing buildings.
Borderway's yard can pen up to 15,000 sheep or 4,000 cattle at any one time and the final stage of the roofing will further enhance the facilities for the centre's successful annual Agri Expo event – the third is to be staged on Friday October 30.
The first sale is for early breeding ewes for early lamb production and breeding rams -mainly Suffolk and continentals - on July 31, followed by a full programme of pedigree sheep sales throughout August along with some dairy herd dispersals and regular sales.
Further major sheep sales take place at Borderway during September with the first of the autumn pedigree cattle sales on September 30 for British Blue bulls and females on behalf of the Border British Blue Club.
"It has always been our ambition to complete the third span of the roof and this will mean the entire Borderway yard pennage is under cover," said Harrison & Hetherington operations director David Pritchard.
"The new roof will greatly enhance the facilities for our sales and for the Borderway Agri Expo event enabling us to expand it further," he added.
The roof has been designed by Carlisle architects Johnston and Wright and the work was carried out by Story Construction, of Carlisle which started in June.
A significant investment has also been made to renew a large number of the existing livestock pennage at Borderway which has been in service for almost 35 years since the centre opened at Rosehill in 1974. The pens have been fabricated by Porters, of Calthwaite, Penrith.
Mr Pritchard said work to replace fatigued metal pens was a further re-investment in the business and enhancing the facilities for livestock producing customers.
Brian Richardson, managing director of Harrison & Hetherington, said: "The investment in updating facilities at Carlisle is significant and follows a period when we have seen increasing numbers of all classes of stock through the mart and it shows the H&H Group's commitment to the business.
"Investment in the other sites is presently being reviewed to maintain our position as the leading livestock auction business in the UK."

UK's Biggest Mixer Wagon Demonstration


Top Chefs Lined up for Kilnsey Show


Another Successful Great Yorkshire Show